Bryce Hall and Blake Gray could face jail for throwing COVID-19 house parties
1 September 2020, 14:59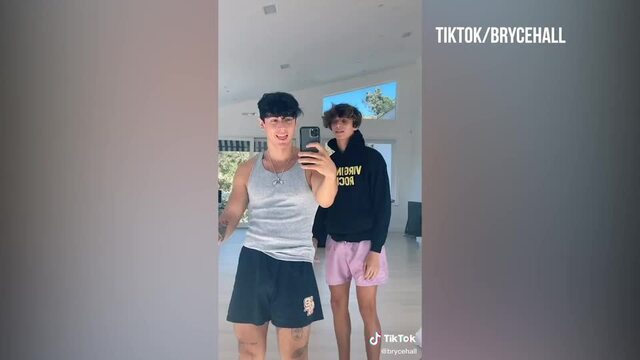 Bryce Hall does the WAP challenge
TikTok stars Bryce Hall and Blake Gray have been charged after a number of house parties took place at their LA homes during COVID-19 lockdown restrictions.
After weeks of "are they really doing that?" call-outs aimed at the TikTok stars throwing house parties during the pandemic, some of them, including Bryce Hall and Blake Gray could be facing jail time.
The city of Los Angeles have officially filed criminal charges against Bryce, 21, and Blake, 19, for violating the "Safer LA" emergency order issued at the peak of the coronavirus outbreak, as well as a party house order that forbids "loud and unruly gatherings".
Both of them are members of TikTok's Sway House, a creator group that rents a mansion in The Hollywood Hills where the parties took place.
READ MORE: Here's the real story behind TikTok's "M to the B" song
Hundreds of guests reportedly attended the parties which were regularly documented on social media, and Los Angeles City Attorney Mike Feuer, has accused the pair of "hijacking the quality of life of neighbourhood nearby."
He added: "As if that weren't enough, the hosts are incredibly irresponsible, with COVID-19 spreading and parties banned because of it. We've got to put a stop to it.
"If you have a combined 19-million followers on TikTok during this health crisis, you should be modeling good behaviour — not brazenly violating the law and posting videos about it, as we allege."
As well as lots of loud music, one party reportedly blocked access for emergency vehicles, as so many cars were parked outside.
Are Bryce Hall and Blake Gray going to jail?
Well technically their offence carries up to one year in jail and up to $2,000 in fines, but it's highly likely that they'll just get a telling-off and have to fork out for the fines.
But hey, what's $2,000 to a TikTok star?
Other internet celebrities including Jake Paul have also recently gotten into trouble for holding house parties during the crisis, and it'll be a relief to a lot of people that the authorities are finally starting to crackdown.