Charli D'Amelio drops $30,000 on a gift for sister Dixie's birthday
18 August 2020, 12:33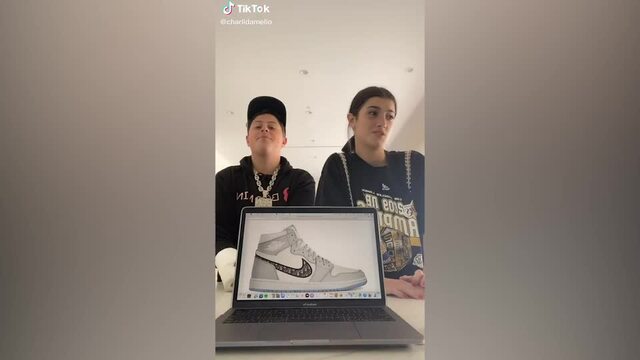 Charli D'Amelio buys sister Dixie $30,000 birthday gift
TikTok star Charli D'Amelio sent sneaker expert Benjamin Kickz across the world with $30,000 to pick up some rare Jordan 1 Dior trainers for her sister Dixie's birthday.
Despite TikTok being on the horizon of shutdown in the USA, it's certainly not stopping the influencers that have made their career on the platform from having fun.
And despite being 16 years old and the most-followed person on TikTok, that goes for Charli D'Amelio too. With a reality TV show on its way and numerous brand deals under her belt, Charli decided to treat older sister Dixie to a rather lavish gift for her birthday this week.
But, it wasn't a car or a luxury holiday that set the teen back $30,000 – it was a trip round the globe to pick up some extremely rare trainers.
READ MORE: You can be an influencer's PA for $30 an hour but the list of requirements is wild
Charli tasked sneaker expert Benjamin Kickz with tracking down a pair of Dior x Air Jordan's, which were not only at the top of Dixie's list, but also very hard to get hold off.
There are only 8,500 pairs of the designer-collaboration trainers made, and Dixie's particular size (six), had one of the highest resale values due to their popularity.
Of course, spending $30,000 on a pair of trainers, the Hype House star used the opportunity to vlog the process on her YouTube channel.
Dixie's $30k Birthday Gift Mission | Charli D'Amelio
In the video, we see her link up with Benjamin as they talk about how they'd already contacted numerous sellers across the US who were refusing to part with the shoes. So, they had no choice but to go global, heading all the way to Paris to pick some up from a collector who had agreed to sell them for the hefty price tag.
Unfortunately for Charli, Dixie did actually find out about the surprise (wasn't worth $30,000 now, huh?), so Charli took matters into her own hands and pulled a little prank.
A friend of the family brought over their McLaren supercar wrapped in a huge red bow to deter Dixie into thinking she was getting the swanky car as her gift. Which also would've been pretty cool given the car is worth an average of $200,000.
Once she figured out that her sister wasn't being *that* generous, she was handed the box to the Dior x Jordan's, but was surprised by a pair of regular $60 Air Force 1's when she opened the box.
No doubt emotionally drained at this point, Dixie then went back into the house and saw the actual shoes waiting for her on the kitchen table – and thankfully, she was still very pleased with them.
It pays to have a TikTok icon in the family, happy birthday Dixie!
READ MORE: Are you more Alt TikTok or Straight TikTok?