Charli D'Amelio responds after look-a-like Ellie Zeiler is accused of 'shading' her
24 June 2020, 16:17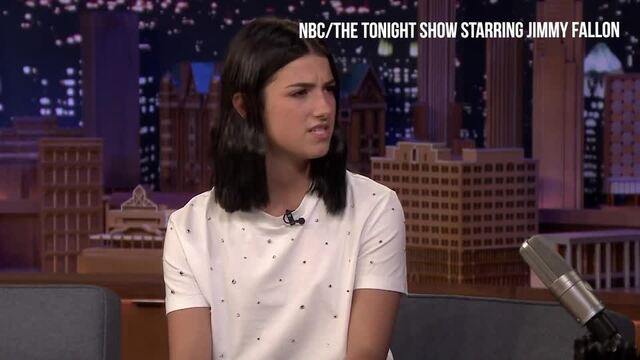 Charli D'Amelio opens up about being cyberbullied on TikTok
Ellie had previously clarified in a TikTok Live video that her "shady" comment was absolutely not about Charli.
TikTok is a lot of fun but it is also full of a lot drama. This week, it's all about Charli D'Amelio and Ellie Zeiler.
For those of you that aren't familiar with Ellie, here's a quick rundown. Ellie (@elliezeiler) is a TikToker with over 5 million followers. She also happens to look exactly like Charli.
Both Charli and Ellie have interacted before, commenting on how similar the two look but the situation seems to have got out of hand thanks to some fans on TikTok. People have accused Ellie of "copying" Charli for clout. Ellie has clapped back at the accusations multiple times, clarifying that there's no drama, and no plagiarism involved.
READ MORE: Addison Rae apologises to Charli D'Amelio after liking old "shady" comments
Now, she's had to defend herself again after TikTok users thought she was shading Charli in a comment directed at another user on the platform. Charli has also responded to the whole thing.
Fans of Charli seemed to begin calling out Ellie after she posted what some thought was a shady comment about TikTok's biggest user in reply to another comment left on one of her videos.
In response to the comment left by Ryan Clements (@ryanclem), who appeared to have implied that Charli was better than Ellie when he wrote "Charli" with a heart eyes emoji, Ellie wrote: "But who is that?"
Some fans thought that Ellie was dismissing Charli and pretending like she didn't know her but Ellie later pointed out that the comment was taken out of context. Directing fans to the TikTokRoom Instagram account, Ellie explained that: "If you check tiktokroom, you'll see i said 'who is that?' to the guy that made fun of me. no disrespect to charli."
In a previous TikTok Live, Ellie also clarified that she was talking about Ryan, and not Charli, after a YouTube video twisted her comment. Fans flocked to her defence, with some referencing the YouTube video that reportedly said that she was shading Charli: "well if u were [here] before that video then y'all would know she CLEARLY meant ryan. not charli."
Now, Charli has responded to the unnecessary drama. After being stopped by the paparazzi with her sister Dixie and asked about the situation, Charli said: "I think there are a lot of people that look like me."
"We have a very basic look," Dixie added. "Honestly, I think we have a very basic look. We have brown hair and brown eyes. Like, I see TikToks all day. Everyone — 'Oh my god, you look like Charli! You look like Dixie!' It's chill."
"It's not that different," Charli commented. "We don't really care."
The girls don't want any drama! They are unbothered! Let's just leave it at that, drop the drama and enjoy the TikToks in peace!
H/T Dexerto