Dixie D'Amelio responds to wild TikTok conspiracy theory about her dad
15 September 2020, 12:33 | Updated: 3 November 2020, 11:21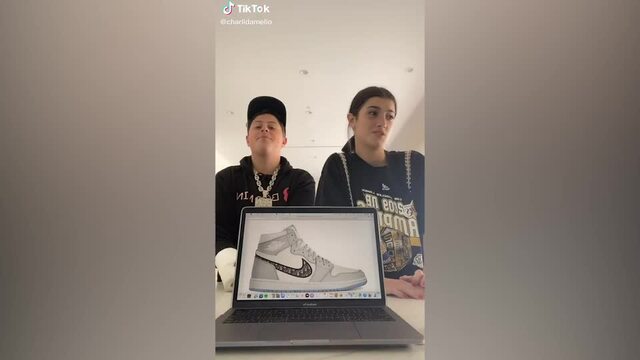 Charli D'Amelio buys sister Dixie $30,000 birthday gift
Charli and Dixie's dad Marc D'Amelio has become the subject of a conspiracy theory on TikTok with users speculating that he bought his daughters' followers.
Everyone loves a good conspiracy, right? Well, there's one currently going round on TikTok about the D'Amelio family and it's honestly wild.
Charli and Dixie D'Amelio are two of the most popular teens on social media right now. The way in which the D'Amelio sisters have skyrocketed to TikTok fame over the past year has been incredible to watch. With over 126 million combined (at time of writing), brand deals with Morphe, Dunkin' Donuts and Hollister, and two spots on Forbes' Highest Earning TikTok Stars list, Charli and Dixie are forces to be reckoned with.
But some people don't seem to think that it's entirely down to their likeable personalities or their wholesome content – and that's where the D'Amelio conspiracy – about their own dad, no less – comes in.
READ MORE: Best TikTok songs 2020: Every viral song from TikTok
A few days ago, the TikTok account Spicy Opinions posted an anonymous hot take that theorised how Charli and Dixie's dad Marc D'Amelio had something to do with their level of popularity on social media.
The conspiracy theory reads: "Can we talk about Charli and her sudden rise to fame for a sec? This app has been around for about 5 years. Not ONCE has somebody rose to fame so quickly and with SO MANY FOLLOWERS. Even Baby Ariel and Loren Gray, the most popular musers, didn't gain so quick and with so many. This has literally never happened before, how and why is she the first, especially with such mediocre content?"
The opinion then goes on to question how Charli managed to gain 90m followers in less than a year, adding "I'm not saying she doesn't deserve it, but it doesn't add up."
The theory continues: "I'm not saying she sold her soul but her dad is sus. He's rich AND a politician. Those two things never go together well. My conspiracy theory is that he plans on running in a future election and being known worldwide as "charli, the unproblematic tiktok dancer who has done no wrong's, father" could possibly ensure the votes of the future generation of voters who aren't very educated in the political field?"
For those not in the know, Charli and Dixie's dad Marc is a Republican politician who previously ran for Connecticut State Senate in 2018. (He lost, by the way.)
The comment section on the original video, which has almost 200k views and 60k likes, are full of people defending Charli and also questioning the situation at the same time. One commenter wrote: "It's not that deep but it is kinda sus." Another chimed in, saying: "I love Charli sm but I feel like her dad is buying her followers. How do u gain 10-20 million followers in like a week- [sic]"
After gaining a lot of attention, the spicy opinion video was then shared on the TikTok Room Instagram account along with Dixie's comment addressing it. Her official statement on the matter? She simply wrote: "lol what"
Charli has yet to comment on the conspiracy theory. Here's hoping they address it even further in their new family reality show!