Charli and Dixie D'Amelio confirm they have left the Hype House
11 May 2020, 11:59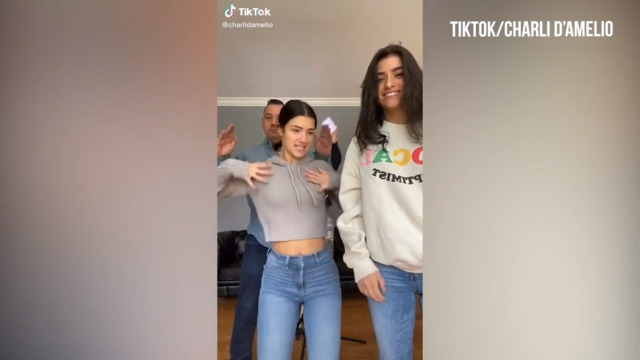 Charli D'Amelio and Dixie D'Amelio do the Say So challenge with their parents
TikTok stars Charli and Dixie D'Amelio have confirmed they have left The Hype House after it became 'more of a business' - and with the 15-year-old being the most followed person on the platform, it made sense for them to go their separate ways.
Is the Hype House officially over? Well you'll be pleased to hear, not just yet, but two of its key members, Charli and Dixie D'Amelio have finally confirmed they've left after weeks of speculation.
Charli D'Amelio, who has become the platforms biggest user of all time with almost 50 million followers at the age of 16, along with older sister Dixie, 18, have already said that the D'Amelio family's own reality TV show is currently in the works. Both sisters are signed to major talent agency, UTA, which look after the likes of Mariah Carey and Johnny Depp, so leaving the LA-based creator group won't come as too much of a shock to most.
READ MORE: Charli D'Amelio apologises after being accused of mocking cosplayers on TikTok
There's already been a lot of guessing after neither of the sisters appeared on the brand's Instagram feed for over a month, as well as other behind-the-scenes drama including co-founder Daisy Keech suing two of her fellow members, Chase Hudson and Thomas Petrou - and now Charli and Dixie have confirmed their departure, but thankfully it's not all bad blood.
Although the pair have cut business ties with the Hype House, they remain friends, and a statement read: "When the Hype House started to become more of a business, Charli and Dixie stepped away from that aspect. While their businesses are separate, their friendships with the members continue."
It makes sense given the D'Amelio family recently signed with American Idol producer Industrial Media for their own reality TV show, and although it's thought there may have been rising tensions due to Charli's recent breakup with Chase Hudson, it seems like he's totally cool with them too.
"We're always going to stick together as a family," Hudson told the Hollywood Reporter when asked about the group's recent dramas. "We've always been there for each other, no matter what happens."
The sisters have 54.8 million and 23 million TikTok followers respectively, and Charli recently overtook Loren Gray as the most followed creator on the platform.
We're glad the Hype House has had one happy ending at least, and we're gonna need this reality show ASAP.