This Video Of A Kid Reviewing Chicken On YouTube Is Going Viral And It's Genius
9 December 2016, 15:11 | Updated: 8 May 2017, 17:09
Best thing to happen in 2016 by far.
Anyone who isn't from the UK will think we're completely obsessed with chicken. And actually, you would be correct. Visiting Chicken shops in the UK isn't just a way of life, it's a religion. You've heard of a Cheeky Nando's... now get ready for 'The Chicken Connoisseur' - a teenage YouTube food critic who is currently going viral.
via youtube.com
An unsung hero in search of "the pengest munch", The Chicken Connoisseur (his real name is shrouded in mystery) describes himself as "a food critic for mandem who care to know what the finest chicken restaurants in London are and where to find them." Oh, and he's a bit of a crep fiend too.
Loosely translated for those not in the know (aka our glamorous US readers): He's a sneaker-loving kid from London who travels far and wide (zones 1 to 3 only) to review various independent chicken shops (no KFC) in search of the finest chicken for the fried poultry enthusiasts amongst us.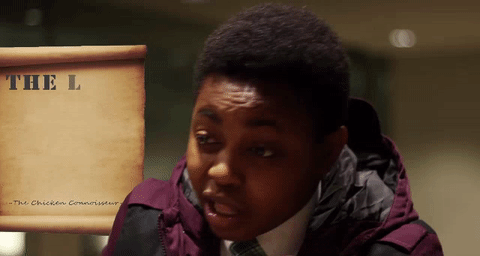 via youtube.com
There are rules to The Chicken Connoisseur's method - to keep the playing field even, he treats himself to four wings, a chicken burger, chips and a drink in each shop. And then he asks the tough questions: Is it worth the price? How do the chips rank out of 10? Was the chicken burger succulent enough? How was the texture? The flavour? The service?
Episode one sees The Chicken Connoisseur hit trendy Shoreditch in search of the pengest munch. He doesn't find it. Episodes two and three aren't promising either. He's just released episode six where he heads to Tottenham - home of Adelegend - to deliver his next review. It's already got over 100k views and counting. Watch the video below to see if they survive his scathing rankings:
It's the kind of video that makes you go, "Jesus christ, why didn't I think of that? It's so simple!" Someone give him his own TV show immediately - a genuinely hilarious and charismatic kid who's out there taking one for the team and making solid gold content.
Will The Chicken Connoisseur ever find the pengest munch in London? Better subscribe ASAP to find out.
___ ___ ___ ___ ___
Catch Little Mix & more on the #PopBuzzPodcast right now. Subscribe for free on iTunes to get new episodes sent straight to your phone every Wednesday.