Colleen Ballinger addresses accusations she sent underwear to a 13-year-old fan
13 May 2020, 11:15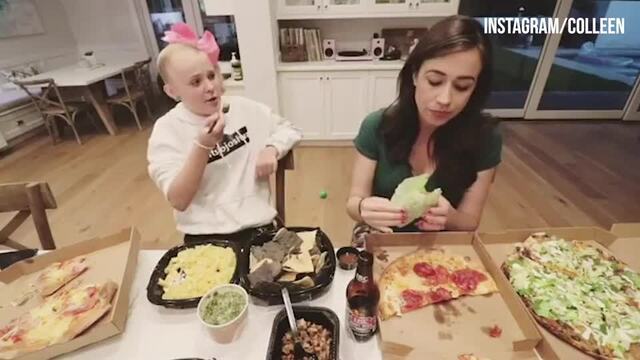 Colleen Ballinger and JoJo Siwa open up about receiving hate from trolls
Colleen Ballinger (Miranda Sings) has also apologised for old racist and fatphobic videos that have recently resurfaced online.
Colleen Ballinger has responded to claims that she sent underwear to an underage fan and other allegations in a new video.
Earlier this month (May 1), a 17-year-old Miranda Sings fan named Adam, took to his personal YouTube account to accuse Colleen Ballinger of sending him lingerie when he was only 13 years old and getting him to ghostwrite content for her without paying him. Following the allegations, old videos of Colleen making racist and fatphobic comments resurfaced online.
READ MORE: James Charles responds to backlash over Instant Influencer apology video challenge
Now, Colleen has addressed Adam's accusations and her past videos in a YouTube video titled: "addressing everything".
Colleen opens the video by apologising for the videos that have recently resurfaced online. In one of the videos, she and her sister pretend to be Latinx woman. Speaking about it now, Colleen says: "It is not funny and it is completely hurtful. I am so ashamed and embarrassed that I ever thought this was okay. I was a sheltered teenager who was stupid and ignorant."
Colleen then brings up an old video in which she makes derogatory comments about an overweight woman. She says: "It's awful. I watched this clip and I was appalled and shocked that those things came out my mouth 12 years ago. That is not the woman who I am today. The fact that I talked negatively about someone who is overweight is disgusting to me."
Afterwards, Colleen opens up about Adam's allegations. She says: "The biggest issue that came from his video is that I sent a child underwear and wow anyone who heard this out of context and was offended I completely understand." She explains: Four years ago, I did a livestream giveaway, I was giving away clothes that were unused, tags still on, brand new. "
Colleen adds: "One of these items were a really ugly pair of underwear. At the end of the livestream, this boy, who made this video about me recently, asked for the underwear. It was so ridiculous and funny. I sent them to him. He posted about them. It was a big joke. In hindsight, I should have never sent that but it was never a sneaky, creepy, gross thing."
colleen ballinger, stop lying
In response to Adam's ghostwriting claims, Colleen says that she gave him access to Miranda Sings' Twitter account for a day. However, when he made a divisive joke about Miranda "coming out" as a Meghan Trainor stan, she stopped him. She says: "I let him know that I loved him, he did a great job. It was my fault, not his."
As it stands, Adam hasn't responded to Colleen's new video. We shall update you if he does.