Danielle Cohn accidentally lets slip she's 14 on Instagram Live
20 August 2020, 14:50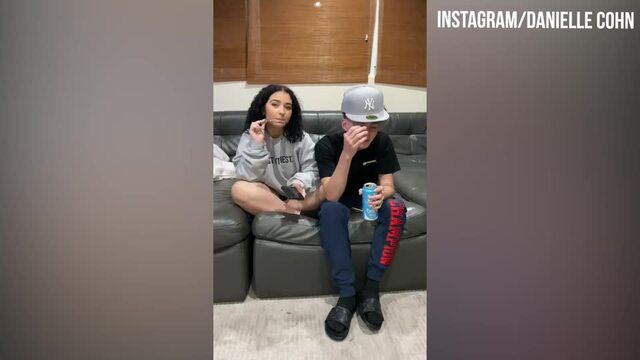 Danielle Cohn says she would like to have children with boyfriend Mikey Tua
How old is Danielle Cohn, really?
Danielle Cohn has reignited speculation surrounding her real age (again), after accidentally admitting she is only 14 on Instagram Live.
In case you didn't know, Danielle first shot to fame in 2016 by posting lip syncing videos on Musical.ly. Now she has a massive following across multiple social media platforms, including 18.3 million on TikTok and 4.7 million on Instagram. 
However, her social media career has been somewhat controversial because of her older appearance and constant speculation over her true age.
READ MORE: How old is Danielle Cohn? YouTuber's dad accuses her of lying about her real age
Danielle claims to have turned 16 on 7 March 2020, however, last year Danielle's father Dustin claimed she was only 13 and pulled up some receipts in the form of her birth certificate. Danielle and her mother Jennifer Archambault hit back at Dustin's claims and insisted she was 15. Well, Danielle's latest Instagram Live kind of fits with her father's statement…
In the Instagram Live, Danielle is answering fan questions about herself and on-off boyfriend Mikey Tua, 18. The question read: "Do you wanna have kids with Mikey?"
Danielle then responds: "Yeah! I mean, of course I do. Obviously, not right now, you know, 'cause right now would not be the best time to do that. But obviously in, I don't know, like, five or six years, maybe? When I'm, like, 19 or 20."
Many reshared the clip as proof of Danielle's real age pointing out that if she was 19 or 20 in five or six years, that would make her only 14 years old right now.
In a statement to Insider, Danielle's mother Jennifer said that, no, Danielle is 16 and she simply got the math wrong.
She said: "She said maybe in five years and then said 18 or 19 – that's not admitting she is 14. It's a live[stream] where she's talking to fans. She didn't admit anything and she is confused on why this is such a big deal. She said just now that she messed up on the math."
What do you think? Tweet us @popbuzz and let us know!