David Dobrik is giving away five Teslas to his fans if they register to vote
30 September 2020, 14:53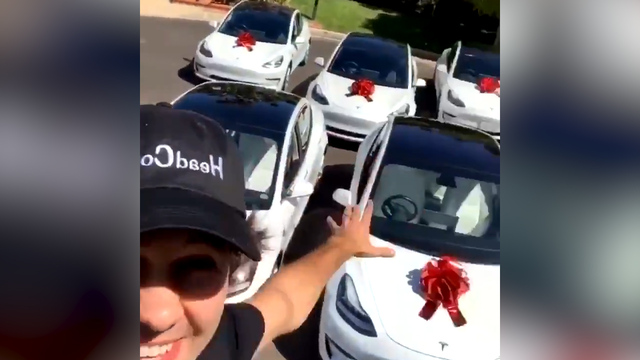 David Dobrik announces he's giving away five Teslas to people who register to vote
Fancy a brand new Tesla? Well, all you have to do is register to vote.
As the US election date looms, and people are being encouraged to vote more than ever, David Dobrik is offering his fans one of the biggest incentives – the chance to win a brand new Tesla. Five of the YouTuber's extremely lucky followers will win a Tesla and all you have to do is register to vote.
Now, we all know David is famed for his cash and car giveaways, partnering with a number of different organisations to surprise his fans with gifts. On Tuesday (Sep 29), he shared a photo of himself next to five white Tesla Model 3s and announced he has teamed up with nonprofit HeadCount, an organisation devoted to encouraging voter turnout.
Prices of a brand new 2020 Tesla Model 3 start at around $35,000 each for a basic model with no add-ons, which means the entire giveaway cost at least $175,000 in total.
READ MORE: Liza Koshy apologises for mocking Asian accents in video with ex David Dobrik
To enter, all need to do is check whether or not you're actually registered to vote already on the HeadCount website before the contest closes on October 10 by filling out the form. Winners of the competition will be chosen at random and, obviously, you have to be at least 18 years old and a US resident to enter.
David was encouraged to do the giveaway after a TikTok user, posted in August, said that David's influence on Millennials and Gen Z could result in 100% voter participation if he did a Tesla giveaway.
Surprisingly, David can't actually vote in US elections himself. David was born in Slovakia and immigrated to the US with his parents when he was six-years-old. Because of this, he's a DACA recipient (Deferred Action for Childhood Arrivals), which means he is not a citizen of the US but he is eligible to work and live there.