Family Vlogs Are More Binge-Worthy Than Your TV Faves
18 January 2016, 11:47 | Updated: 8 May 2017, 17:09
All aboard the family vlogging train.
Family vloggers are by no means a new concept. As long as vlogging has been around, charismatic family units have found a comfortable niche in the wholesome section of YouTube. As much as the cynical little beast inside of me wants to be critical of family vlogs, I have to admit that the practice is more fascinating than it is odd.
The first vlogging family I ever heard of were the Butlers, better known as the "Shaytards". This was probably around 2009 and, at that point, family vlogging was a reeeally new concept. Fast forward to 2016 and the Shaytards are two family members and 50 million dollars up. This means that, for the two youngest Butler children, there has never been a time where they haven't been a part of the family's daily vlogs.
The Shaytards may be the first vlogging family of YouTube, but they certainly aren't the only family. There are the Saccone-Jolys, The Nive Nulls, the Travis family and dozens more. And vlogging isn't just a genre. Family vlogging subgenres range from Christian vloggers to baby vloggers, health vloggers and more.
But what happens when family drama strikes? What happens when the marriage is in trouble, a child dies, or a pregnancy ends in heartbreak?
The families keep filming.
Most recently, Christian family vloggers, The Nive Nulls were forced to make a video addressing cyber infidelity for which they're attending marriage counseling for. Obviously the pair have a lot to work through, but the vlogging aspect certainly complicates things. Not only is father, Austin Null, accountable to his wife, but also their hundreds of thousands of YouTube subscribers as well.
Similarly, in the Ashley Madison hacks of 2015, fellow Christian vloggers Sam and Nia had to deal with both the loss of a child and unsavory details emerging regarding the controversial extramarital dating site. After going "viral" with a pregnancy announcement video, the pair fell from dizzying heights when their image did not seem to match up to reality.
Fortunately for them, they're back vlogging, have a child on the way, and seem to have put those rocky couple of months behind them. They made it through their very public rough patch.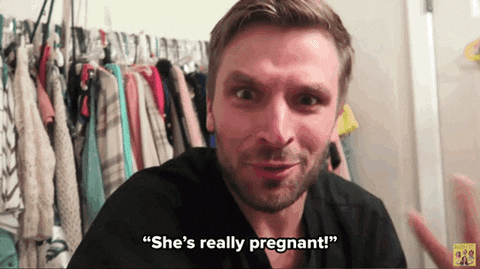 gif source: giphy
Somehow, despite the challenges we know many that family vloggers face, the majority of them remain committed to documenting their family's lives. And from that commitment comes the typical YouTube perks.
Pre-roll advertising, merchandising, and sponsorship deals are familiar territory for these YouTubers. There is even a YouTuber network (agency) for so-called "mummy vloggers" to better help them land those oh-so-crucial brand deals.
And there is tons of space for expansion.
These days we're seeing lifestyle, makeup and style vloggers expand into family vlogging as wekk. It's the natural progression of things. As our favourite YouTubers grow up and get married, their small families expand but their vlogging continues.
For instance, family vlogging mainstay, Anna Saccone, has a lifestyle channel alongside her family vlogging channel. She shops, bakes, does challenges, and still has time to make videos about her daily life as a mother.
Same thing goes for Judy Travis who started off as a beauty YouTuber, got married, had three kids and now does family vlogs alongside her beauty tutorials.
As soon as vlogging became a thing, there was no doubt that a family aspect would somehow be incorporated. For nearly a decade we've seen the act of vlogging your family's every waking moment become more and more normal. But, of course, the good must come with the bad and there's no doubt that family vlogger scandals are on the rise. Family vlogging trials and tribulations may not always be pretty but they're definitely entertaining.