Hannah Hart, Mamrie Hart and Grace Helbig Are Making Another Movie
29 October 2015, 08:52 | Updated: 8 May 2017, 17:09
YAS YAS YAS YAS YAS YAS.
Guys, guys, guys, it looks like Hannah Hart, Grace Helbig and Mamrie Hart are heading back to the (metaphorical) silver screen!

Following their 2014 film Camp Takota the trio have announced that they'll be working on second feature film, this time with the backing of a major distributor, Lionsgate.
The new film, titled Dirty Thirty will follow a birthday party that goes totally awry.
According to The Wrap, in a joint statement, Helbig, Hart and Hart said: ""We are beyond excited to be making another digital movie together! We wanted to expand off the success of Camp Takota by bringing in a major studio.
"Lionsgate is a perfect partner because they are a big player, but they're a young studio who will support our creative vision and take chances. Plus, they approved our snacks budget."
Obvs being YouTubers, Grace, Hannah and Mamrie also made this HILARE video announcement, too.

We litch can't WAIT for more lolz from our fave three girls. What's more you can keep up to date with all the goings on with the film at dirtythirty.com. Hopefully there'll be more of this...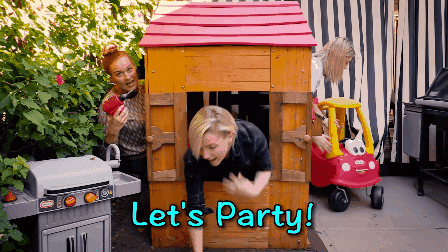 dirtythirty/YouTube