Here's How Much Money Zoella Makes And TBH, Why Are You Surprised?
15 March 2016, 12:47 | Updated: 8 May 2017, 17:09
Zoella is rich AF.
Another day, another weird money related Zoella story. This week it's Sunday Times' turn for some Zoella content and they're back at it again with that big salary reveal. According to The Times, Zoella earned £400,000 over an 8 month period in 2014 (£50k a month). It's worth noting that November of that year was the month she released the first in her Girl Online series.
Now, £400,000 is nothing to turn your nose up at. We recognize that it's big money, but in the grand scheme of things, does it warrant this kind of frenzied reaction?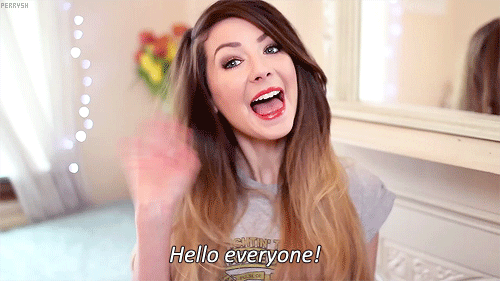 Zoella runs her YouTube channel (she can get 20k a month just from YouTube), gets brand deals, writes books, and has a very successful beauty range with Superdrug (just to name a few things). And, to put Zoella's power in perspective, her Girl Online debut was the fastest selling book debut in history--lest we forget. She does quite a lot with her time, probably struggles to see friends and family, and has basically lost her claim to privacy. People make money when they work hard and Zoella is no different.
But just to put it in perspective, here is how much a few different famous people earn per month.
Cristiano Ronaldo (Football player) - £1,096,000 a month

PewDiePie (Gamer/Youtuber) - £847,650 a month in 2014


Lindsey Stirling (Violinist and Youtuber) - £350,000 a month

When people freak out over how much Zoella makes, it's probably worth reminding them that athletes, singers, and actors make as much (if not more) than what the papers are reporting Zoella makes. And, to be honest, you can't exactly say that Zoella hasn't earned it.
She films, edits, and uploads her own videos; she has carefully positioned herself in a very profitable space--brand wise; and she has simultaneously grown an audience over of over 10 million subscribers by consistently posting entertaining (or, at the very least, watchable) content. To be honest, she is worth, AT LEAST £50,000 a month.
Record producers have been known to make thousands of dollars on one song (Swizz Beatz can charge $100,000 for a single beat). I don't know why in the year 2016 anyone is surprised about how much money anyone makes. Just assume everyone is making more money than you and try not to think about it too much.
Perhaps instead of scratching our heads and asking if Zoella earns too much money, we should be wondering why teachers (£32k a year), nurses (23k a year), and hardworking junior doctors (22k a year) in Britain aren't paid more for their own contributions. That should have us freaking out. Not the salary of a woman who works for a living.
And, if anything, it seems that Zoella's big money reveal is inspiring other girls to run out and get that paper.
After hearing Zoella earns 50k a month I'm gunna buy me a tripod and a ring light and start talking about myself and putting it on YouTube

— char (@charhunterx) March 14, 2016
Zoella apparently earns 50k a month okay when can I start YouTube?

— Sophie (@_sophiepunter) March 14, 2016