James Charles blasted for taking a trip to Hawaii during the coronavirus pandemic
27 October 2020, 12:11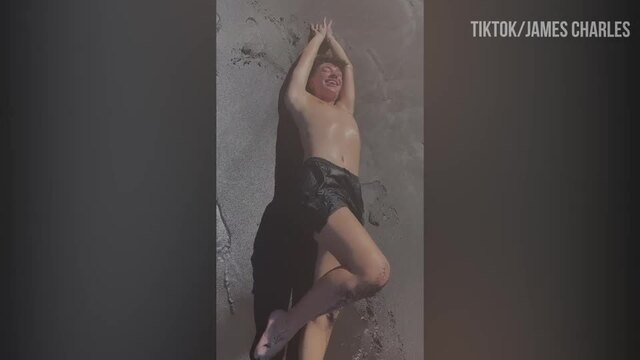 James Charles crawls around on the beach in Hawaii
James has now responded by sharing his negative COVID-19 test results.
James Charles has received backlash for traveling to Hawaii during the coronavirus pandemic.
Last week, the YouTuber took a trip to Kailua-Kona, Hawaii, from his home in Los Angeles, California. According to government advice, you can travel for urgent matters or if its essential to your permitted work – you should not be going on vacation. Meanwhile, the Hawaiian government states that there is a mandatory two-week quarantine period for all travellers entering the country. A violation of the quarantine rules could result in a misdemeanor which is subject to a possible fine and/or jail time. However, if the traveller has tested negative before entering Hawaii they do not have to quarantine.
James shared multiple images of himself in Hawaii on social media including one TikTok video of himself writhing around on the beach. Alas, the makeup guru was hounded by other TikTok users in the comment section of his video.
READ MORE: Inside James Charles' new luxury $7 million mansion
Now, James might have been on the island for work and he could've had a test before travelling to Hawaii meaning that the mandatory quarantine rule would not apply to him, however, many thought it was selfish of him to travel anyway. A viral TikTok from a Hawaiian resident called James out for coming to the country. "So anyone wanna give me a good excuse as to why James Charles is here during a pandemic? On an island with only 24 critical car ICU beds?" he captioned the post.
James was also accused of blocking comments from people that had blasted him. The caption continued: "And also why are you blocking Kanaka creators for calling you out James? It's not adding up rn. Hawaii is not your vacation paradise, especially during a pandemic."
james why are you in hawaii we dont need more tourists here increasing the spread here in hawaii. we are already getting an increase in cases. PEOPLE STOP COMING TO HAWAII PEOPLE LIVE HERE TOO AND WE DONT WANT AN INCEASE IN CASES HERE. hi james

— kn (@ughtrash_) October 18, 2020
You realize that you can come vacation here but I'm not allowed to visit my family's house down the street because Hawaii is still on lockdown to Hawaiians and locals... go home haole

— I.A. (@IA808) October 18, 2020
NOT JAMES CHARLES COMING TO HAWAII THE MOMENT OUR TRAVEL BAN GOT LIFTED BRUH ??? 😭LEAVE US ALONE

— 𝔤𝔦𝔫 𐐪𐑂⋆ (@kuromisbitch) October 18, 2020
hey sister, idk if u realized it, but covid hasn't stopped, in fact cases in hawaii are rapidly rising. a lot of people were very hesitant about tourism opening, but hawaii would completely go broke if we didn't. but like, enjoy your ig, idk.

— misty (@mistyyyjane) October 18, 2020
not james charles coming to hawaii as soon as it reopens ... just say you don't care about native ppl and go 🤢🤢

— kellie (@kxllie) October 18, 2020
James addressed the backlash by posting his negative coronavirus test results on Twitter.
However, this wouldn't be the first time he has been accused of not taking the pandemic seriously. In July, James apologised for attending a party thrown by the infamous Hype House while coronavirus cases were spiking in California.
What do you think? Tweet us @popbuzz and let us know!