James Charles launches new beauty competition show Instant Influencer
2 April 2020, 15:57 | Updated: 2 April 2020, 17:30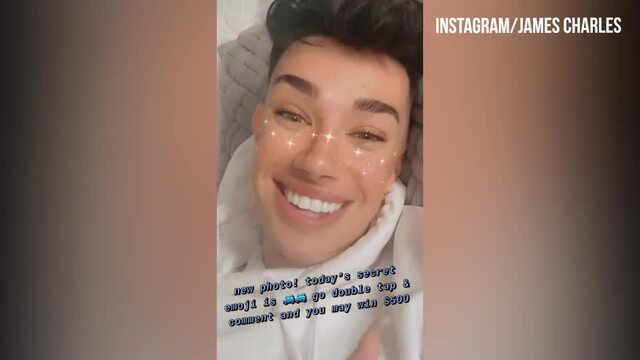 James Charles launches competition for fans to win money during coronavirus crisis
The winner of Instant Influencer will receive *RuPaul voice* $50,000!
James Charles is about to come through with the goods because he's just announced that his brand new reality show is days away from hitting our screens – and it sounds very exciting.
Back in November, James posted a video announcing that he was filming a reality show that would seek to find the next big beauty influencer. Yesterday, James finally revealed the name and the release date for the show.
READ MORE: James Charles and David Dobrik just matched on Bumble and we're screaming
Taking to Instagram, he wrote: "My very own beauty competition show, Instant Influencer, is finally here. Streaming FREE on YouTube starting April 24th. Official trailer coming Friday. This project has been a dream come true and I cannot wait for you all to see all of the hard work that went into it... Blend, but don't blend in."
Instant Influencer will air on YouTube as part of the YouTube Originals line up and the first episode will be released on April 24th. But what's it all about? Here's everything we know, including the contestants, types of challenges and everything to expect...
Instant Influencer will see a group of contestants take part in several challenges, with James and a handful of guest judges making their decision on who advances to the next round.
James previously described the competition as "crazy, intense challenges, that will not only test your artistry but your uniqueness, your ability to captivate an audience and we'll truly see if you have what it takes to become the next beauty superstar".
He also teased that the show will reveal a lot about the community, marketing and artistry. Oh, and there will be a whopping $50,000 prize alongside a bunch of other secret prizes too.
The show, as reported by Variety, will consist of four episodes. The episodes will air weekly and will see special guests, guest judges and industry veterans take part. Anastasia Beverly Hills' Claudia Norvina Soare has recently confirmed her involvement in the show too.
The contestants on the show were also revealed by YouTube yesterday on Twitter. Ashley Strong, Benny Cerra, Britany Renteria, Christian Perez, Gabriel Garcia and Kailin Chase will all compete against each other for the grand prize, and show off their incredible skills on the show.