James Charles finally gives JoJo Siwa a makeover after she previously rejected him
24 August 2020, 15:43 | Updated: 15 July 2021, 17:01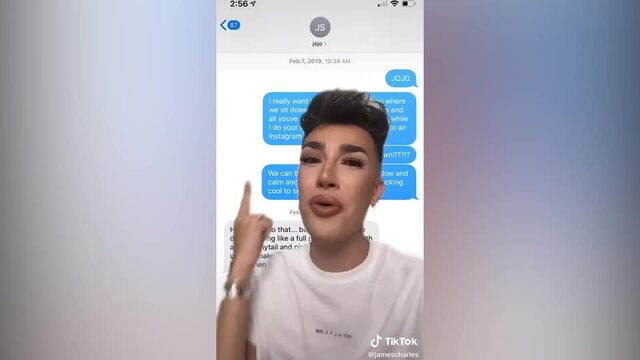 James Charles finally gives JoJo Siwa a dramatic makeover
James Charles just dropped a video with JoJo Siwa, giving her a dramatic makeover transformation, before revealing that she actually rejected his request last year as it wasn't true to her brand.
James Charles' latest video starring none other than JoJo Siwa left everyone shook as he transformed the bubbly teenager into an Instagram baddie.
But it turns out it's been a long time coming, as James has revealed in a TikTok that he's been trying to create YouTube content with JoJo for two years – but kept getting rejected.
"Getting my makeup done number one is just like a 'no.' I like to do it. I don't let anybody else do it. My hair, even more so," she said at the start of the video.
READ MORE: JoJo Siwa keeps roasting her haters on TikTok and it's hilarious
But it may not have been her fear of having her makeup done that stopped her previously. In the TikTok, the pair posed over a series of text messages dating back to the beginning of 2019, where JoJo turned him down as the video wasn't "on-brand" for her.
Here's how the conversation went...
James: "JoJo...I really want to do a video with you where we sit down and talk business and all you've done on YouTube while I do your makeup but like turn you into an Instagram baddie.
"We can both talk fast but also be slow and calm and I think it would be so f*cking cool to see a different side to you."
JoJo: "Hey, so I can't do that...but if you wanted to do something like a full pink makeover and a ponytail and pink makeup, or a unicorn makeover, something more on-brand I would be down!"
The long-awaited transformation comes just months after fans suspected that as the star's 17th birthday approached, she would then be free from a long-standing contract tying her to the crazy, colourful brand we know her for.
Since then, she's been posting makeup-free, paired-back snaps, and even got herself a new boyfriend.
In the video with James, she looks almost unrecognisable, with false lashes, a bronze smokey eye, and sleek, waved hair.
Watch the full video here...
Giving JoJo Siwa A FULL MAKEOVER!
Fans have compared her new look to that of fellow YouTuber NikkieTutorials, and can't wait to see more of this new side to the star.
However, we could be waiting a little longer for the full transition over to this new JoJo, as she thinks the look isn't really her style, she said: "Obviously it's not me, I mean, you know how I showed up here in sparkles and bright pink and neon and rainbow, but it is really pretty."
We need more JoJo and James content ASAP.