James Charles shuts down claims he got a butthole tattoo following viral video
30 September 2020, 11:40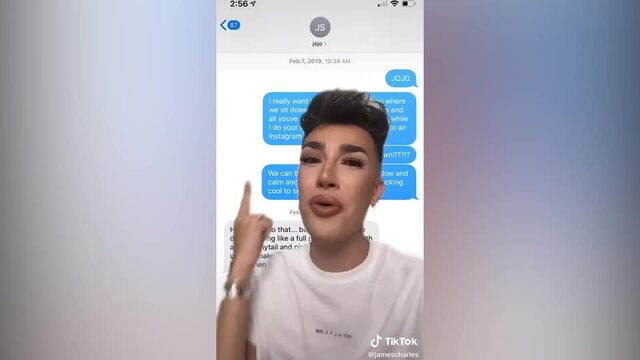 James Charles finally gives JoJo Siwa a dramatic makeover
A video went viral in which a mystery man gets his butthole tattooed and people thought that it was James Charles.
James Charles has shut down claims on the internet that a recent viral video in which a guy gets his asshole tattooed is him.
James Charles is no stranger to tattoos and piercings. The 21-year-old beauty vlogger doesn't have many but he's got three ear piercings, a septum piercing and, in 2018, he got a tattoo with his younger brother Ian Jeffrey. Ian let James give him a leg tattoo with help from Romeo Lacoste and James decided to get the word 'Sisters' tattooed on the inside of his lip.
READ MORE: James Charles called out by fans who haven't received merch orders in four months
Yesterday (Sep 29), an alleged video of 'James' getting a butthole tattoo went viral but James has now clarified that it's not him.
On Tuesday (Sep 29), a video went viral in which a James Charles lookalike can be seen stark naked, screaming while getting their own butthole tattoo. The unidentified man has a tattoo which stretches all the way from the back of their thigh, over their bum, up their back, to their shoulders. A tattoo artist can be seen adding to the man's tattoo collection by tattooing the man's asshole.
A Nicki Minaj fan shared the video tweeting: "now why would james charles-" and it quickly went viral. People assumed that it was in fact James getting his butthole tattooed and Cupcakke even tweeted about the video. Noticing Cupcakke's tweet, James Charles replied to her to clarify things. He tweeted: "girl that ain't me" with a crying and laughing emoji.
Cupcakke then replied: "Omg . I'm deleteing sorry".
In other words, if you see a video of a James Charles lookalike getting his butthole tattooed on your feed, it's not James.