Jeffree Star responds to backlash over "insensitive" Cremated eyeshadow palette
18 May 2020, 12:17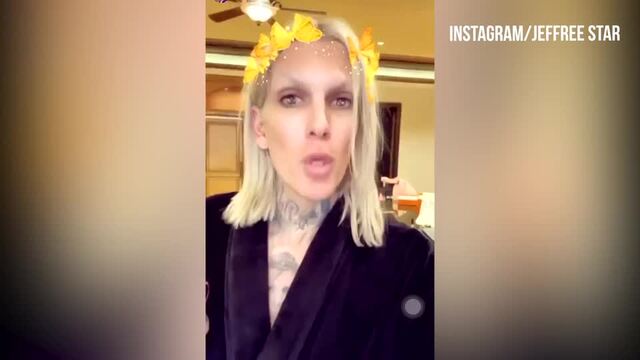 Jeffree Star reveals he is closing his warehouse due to the Coronavirus outbreak
Beauty YouTuber Jeffree Star has announced the launch of his latest palette, "Cremated", but fans aren't happy with the tasteless theme in the wake of the coronavirus pandemic.
Another day, another YouTube-induced drama, and this time it's Jeffree Star in the firing range of fans, after the rather 'distasteful' launch of his brand new palette, "Cremated".
We know what you're thinking, awkward timing, right?
The 24-pan gothic-themed palette is set for release on May 22, but supporters and haters alike aren't too sure on the theme, given the current coronavirus pandemic, which has already claimed the lives of over 315,000 people so far.
READ MORE: Jeffree Star and Shane Dawson to release new green-themed Conspiracy collection
The shades, including "RIP", "Eulogy", "Obituary", and "The Morgue" make up just some of the extreme metallic shades in the grey-themed creation which would otherwise be rather nice for the brand's first neutral-toned palette, but people are already choosing to boycott even before it's been released.
Jeffree announced the launch from the comfort of his $14million Calabasas home over on Instagram, writing: "This one of a kind spooky @jeffreestarcosmetics 24 pan gothic dream will wake up the makeup world! Get ready to be deceased. Extreme payoff."
Needless to say, everyone was left a little confused by the marketing, and there seems to be a collective agreement that the launch could definitely have waited...
jeffree star really put out a palette called "cremated" and has the shade names revolve around death while there's a global pandemic and thousands are dying everyday... ok also why would you put something out when people are struggling for money and can't afford food?? yikes

— aimee (@endearingdaniel) May 17, 2020
everyone dragged james charles for WEEKS for accidentally triggering people with his mugshot picture but jeffree star releases a palette called cremated in the midst of a pandemic that has so far killed over 350,000 people and there is scilence? make it make sence

— will: shannons makeup gay #1✨😌 (@OhMyGodExposeU) May 15, 2020
Ok hear me out. I know Jeffree Star had this palette name trademarked in September but to drop a line called "cremated" during a pandemic while thousands are dying and given no option but to be cremated.... it's kinda fucked up.

— Kate (@kateeeobrien) May 15, 2020
Jeffree Star's new pallet is tone deaf in a level that I can't even wrap my head around.

"Cremated", with the slogan "get ready to be deceased", during a health pandemic of proportions never seen in the history of humanity?

Thanks, but no thanks.#JeffreeStarIsOverParty

— Camille (@CruelRedMouth) May 15, 2020
That being said, Jeffree has been quick to clarify that the product was designed and trademarked way back in September 2019 and was always scheduled for spring release, and the current crisis was merely a coincidence.
The 34-year-old, who Shane Dawson thought he had given coronavirus to earlier this year, leapt to his own defence after seeing the comments about his creation, and admitted that everything he makes "comes from a good place" and that he wanted to take the fact that both his father and two Pomeranians had been cremated, and turn it into something positive.
The palette was intended to be "the Jawbreaker palette with a black and white filter" and the beauty boss has made it clear in regards to the negativity, "if you take it that way then that's how you articulate things...not me".
He also responded to a DM saying that the feedback was because it was his brand and wouldn't have faced the backlash if he was someone else, writing: "Because it's 'Jeffree' people always want to be offended and make it personal always...the world just doesn't work like that."
It seems like he's sticking to his guns, and we've no doubt that the $55 will be a sell-out anyway. See you in line on May 22.