Jeffree Star confronts TikTokers that claimed they broke into his house
6 April 2020, 12:10 | Updated: 3 November 2020, 11:20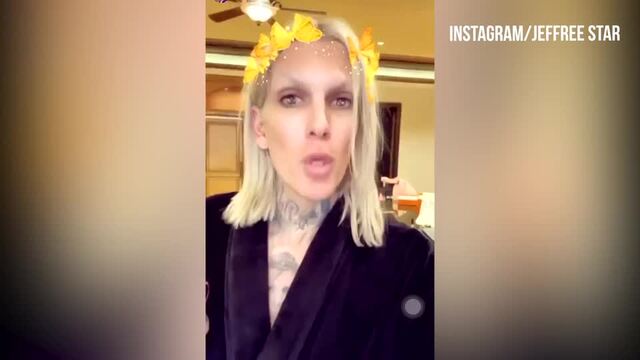 Jeffree Star reveals he is closing his warehouse due to the Coronavirus outbreak
Jeffree Star purchased his $14.6 million Hidden Hills house in 2019.
Jeffree Star has just denied that anyone has broken into his $14.6 million mansion in Hidden Hills, California, after a TikTok from two people claiming they made their way into his house during quarantine went viral.
In case you didn't know, Jeffree purchased his sprawling 25,000 square foot French-style abode in December 2019, shortly before his break up from ex-boyfriend Nathan Schwandt. Jeffree, who previously lived in Calabasas, is in the process of renovating the huge mansion and he's been keeping his fans updated throughout the whole process.
READ MORE: Jeffree Star warns against Cash App scam after impersonator asks his fans for money
On Sunday (April 5), the YouTuber shared his latest video titled "Reacting To TikToks About Me (They Broke In!)". Having never opened a TikTok account before, Jeffree reacted to clips about himself. One particular video caught Jeffree's attention, in which two people claimed that they'd somehow broken into his home.
Jeffree explained how various people had been contacting him and his team about the video. In the clip, captioned "When you sneak into Jeffree Star's house during quarantine", two people recorded themselves walking around the grounds of Jeffree's Hidden Hills mansion.
"Okay, so their account has literally only that video... Now listen, that is my home, but there's no rose garden anymore and all the patio furniture is gone," he explained. "So, that's very convincing, also a little sketchy and a little scary because you're kind of perpetuating that you broke into my house while I wasn't here. Which is not possible!"
"And I'm like…if you don't really know that the rose garden is gone, right? You'll believe the video. So no one broke into my home, everyone sending it to me, thank you, I really appreciate it, we have everything under control."
Watch Jeffree Star's video here.
Reacting To Tik Toks About Me (They Broke In!)
Jeffree, who has a live-in armed security team patrolling his house 24/7, went on to say that trespassers will be swiftly dealt with. He continued: "Colin and Roman are not playing games, they're going to bow and arrow someone's ass if they even come to the door. But, whoever you are, cute."