Morgan Adams unfollows Jeffree Star on social media
23 June 2020, 17:22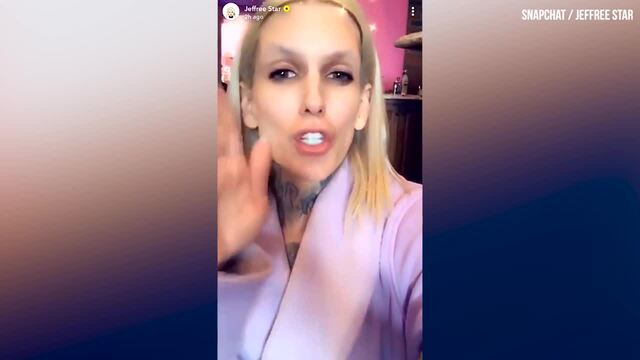 Jeffree Star accuses James Charles of spreading "lies" and teases new video
Morgan unfollowed Jeffree just days after Shane, her soon-to-be brother-in-law, posted about the "two-faced" beauty community.
Morgan Adams has unfollowed Jeffree Star on social media, only a few days after Shane Dawson shared his four-page long Twitter note slating beauty gurus.
On Sunday (June 21), the YouTuber decided to quit the YouTube beauty community. Shane slated beauty gurus for being "egocentric, narcissistic, and vengeful" but he also said a few things about his close friend Jeffree Star.
READ MORE: Shane Dawson quits beauty community and slams "two-faced" beauty gurus
He wrote: "Yes, Jeffree is in that list of dramatic gurus and he would admit that, and he will always be family to me and I love him, despite those characteristics. He's very aware of the fact that I don't agree with many of the ways he approaches situations and I have been very honest with him about needing to make some changes."
Well, people soon noticed that after Shane's statement was posted Morgan, who is the sister of Shane's fiancé Ryland Adams, had unfollowed Jeffree on both Instagram and Twitter.
According to Insider, the web application "doesfollow" also shows that Morgan unfollowed Jeffree on Twitter on Monday, however, he still follows Morgan on both platforms. 
Although the pair didn't seem ridiculously close, Morgan and Jeffree both appeared in Shane's YouTube docu-series 'The Beautiful World of Jeffree Star'. Ironically, Jeffree and Shane warned Morgan about beauty gurus in the episode.
Morgan hasn't commented publicly on why she unfollowed Jeffree, but it didn't go unnoticed…
LMAOOOOOOO MORGAN ADAMS UNFOLLOWED JEFFREE SHE KNOWS SUM COMING

— ARREST BREONNA TAYLORS KILLERS (@OhMyGodExposeU) June 22, 2020
Jeffree Star is losing big follows from Anastasia Beverly Hills, Fenty Beauty, Jojo Siwa, Shea Coulee, Morgan Adams, Jeff Leatham and Pout by Lipsticknick. This is similar to what happened to James Charles last year during Dramaggedon. What are your thoughts? pic.twitter.com/nQKky4asEd

— Def Noodles (@defnoodles) June 23, 2020
QUIZ: How popular are your beauty community opinions?
What do you think? Tweet us @popbuzz and let us know!