Jeffree Star admits he faked video where he gave Nathan Schwandt an Aston Martin
26 March 2020, 12:18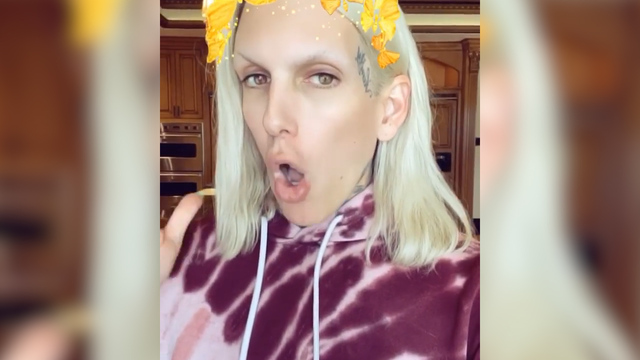 Jeffree Star reveals that there will be a Blood Lust restock this Friday
In July 2019, Jeffree surprised his then-boyfriend Nathan with a $155,000 Aston Martin.
Ever since Jeffree Star and Nathan Schwandt parted ways in January 2020, fans have been wondering what happened to the Aston Martin the YouTuber bought for Nate in 2019. Well, we've got our answer.
Basically, last year Jeffree decided to sell Nathan Schwandt's Bentley and trade it in for a brand new Aston Martin Vantage in Lime Essence – Nate's "dream car". In the video – titled Surprising My Boyfriend With His Dream Car! – Jeffree told Nate that he had sold his "favourite' car and he took the news surprisingly well. Jeffree then pulled up to their house in the Aston Martin the next day.
READ MORE: Jeffree Star is sending thousands of dollars to fans affected by coronavirus on Cash App
"That doesn't sound like... oh, what the fuck?" Nathan said as Jeffree pulled up in the driveway in the luxury car, wearing a lime green wig and Hermes Birkin to match. "Holy shit." He added: "I'm speechless. Yeah, this is a little nicer than a Bentley."
Jeffree then said: "I know we talked about this loosely a few months ago but… surprise!" Well, it turns out, it wasn't quite the surprise it first seemed. In fact, the whole thing was fake.
According to Tea Spill, Jeffree addressed fan speculation about what happened to the Aston Martin following his break up by changing the description box and title of the original video. The title was reportedly changed to, "Pretending to surprise my ex-boyfriend with his dream car". And I oop-
Meanwhile, the description box read: "HEY EVERYONE… Welcome Back to my channel!!! Since my break up with Nathan, I've been asked hundreds of times what happened with this car since uploading this video!
"The car was always mine and in my name. I paid for it and always dreamed of owning an Aston Martin from watching James Bond 007 movies as a kid! We did this video to create content and do something fun, but sadly, this was us acting and was not a real, genuine surprise. lol."
Watch the Aston Martin video here.
Surprising My Boyfriend With His Dream Car!
Jeffree hasn't addressed the changes on social media, however, the description and title now appears to have been changed back to the original text – but not before fans caught the subtle shade.
READ MORE: Jeffree Star's ex-boyfriend Nathan Schwandt returns to Instagram
What do you think? Tweet us @popbuzz and let us know!