Jeffree Star opens up about "really dark, ugly stuff" since break up with Nathan Schwandt
28 March 2020, 19:08 | Updated: 28 March 2020, 20:06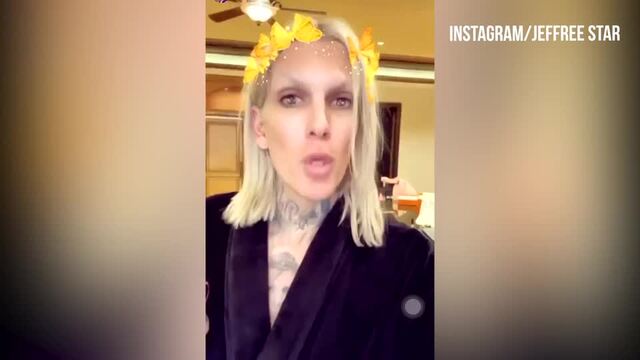 Jeffree Star reveals he is closing his warehouse due to the Coronavirus outbreak
"I've been going through it, I really have. I haven't told anyone that. I haven't vented or said a word, but it's been rough."
Well, if there's one thing we can count on during these tough times, it's a bit of light entertainment via a new video from Jeffree Star.
In his new video, Jeffree treats us financially challenged folk to a tour of his newly renovated, Versace-wallpapered mansion (honestly, there's enough rooms in that palace to house us all during this quarantine), as well as an update into his personal life.
READ MORE: Jeffree Star surprises fan with $30,000 in emotional video call
Teasing his new video on Instagram stories a few days ago, Jeffree said: "When you do so much for someone, and then later they do something really f*cking dark to you or they just get really nasty, you gotta wonder... who was that person?"
After leaving fans speculating about what and who he was talking about, Jeffree has now opened up about what's been going on, and what led him to change the title on the staged Aston Martin video he filmed with then-boyfriend Nathan Schwandt.
While speaking about why he decided to change the title of the Aston Martin surprise video, in which he pretended to have gifted Nate with a brand new car, Jeffree explained that there's been some "really dark, ugly stuff" going on behind the scenes since the break up. He didn't go into specifics, or name any names, but he did reveal that he's been "devastated."
"I don't wanna say that because I'm afraid of being degraded online," he continued. "I'm afraid of people misconstruing what I'm saying and going with it somewhere else. I've been going through it, I really have. I haven't told anyone that. I haven't vented or said a word, but it's been rough."
He added: "Legally, for my protection, I don't really wanna say anything."
In the background, Jeffree's assistant Maddie says: "It's sad what you do for people, and what they do in return," before Jeffree replied: "It's truly scary sometimes."
Updated House Tour! Being SINGLE and Quarantined
In other news, Jeffree also updated fans on the current situation happening with Jeffree Star Cosmetics. Due to the California stay-at-home order and the worldwide quarantines, JSC is currently unable to ship any products.
"Legally, we are not an essential business. Obviously, we're makeup so we cannot go in and ship orders," Jeffree explained. "I do have restocks coming…but we can't ship the orders."
Jeffree explains that it could be sometime in April when the government lifts those rules but "obviously, we don't know." In another video, Jeffree revealed that his next collection and palette is set to drop in April. It seems like that release date is currently still in place but things could change, depending on the severity of the coronavirus situation in a few weeks time.
Oh, and here's something else to look forward to... Jeffree will be getting another Pomeranian puppy next month. PUPPY CONTENT? LET'S GOOOOO.