Jeffree Star apologises for "offensive" Lipstick Nazi website
19 June 2020, 13:14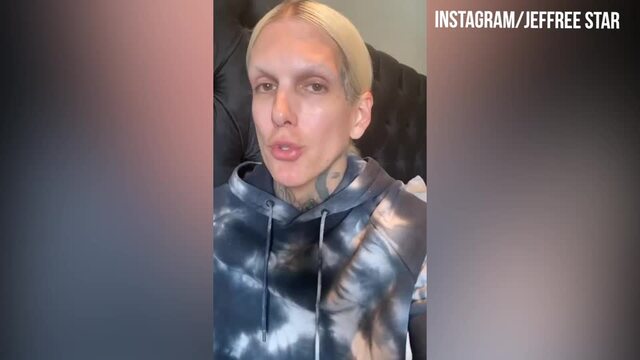 Jeffree Star apologises for old "Lipstick Nazi" website and posing with a confederate flag
Jeffree Star has apologised for using "disgusting" terms like Lipstick Nazi, posing with the Confederate flag and for taking part in a self-harm photoshoot.
TW: This article contains details about self-harm.
Jeffree Star has addressed the backlash surrounding "offensive" comments he'd made in the past, and for old photos of him posing for his website Lipstick Nazi.
Before the launch of Jeffree Star Cosmetics in 2014, it was rumoured that the YouTuber was going to start another brand offensively named Lipstick Nazi. In images teasing that the brand would be "coming soon", Jeffree can be seen posing with a blood-soaked tissues and slashed wrists as a result of self-harm.
READ MORE: YouTuber Kameron Lester says Jeffree Star used him as the "token black kid" in his campaigns
Jeffree has now said that the website never launched, it was only a Splash page, in a lengthy Twitter statement. He has also said that he never used the photos, dissolved the website and erased the images that same week.
"When I was 17 I stupidly referred to anyone who was obsessed with makeup as a 'lipstick nazi' – it was offensive, derogatory and for shock value. It does not reflect who I am today or what I stand for or have EVER stood for," he explained.
Jeffree went on to say that he learned the term from TV show Seinfeld, which had a character called Soup Nazi. However, he didn't think that was an excuse for using the word. He added: "The word itself is disgusting and I will always be deeply sorry to anyone who had to see that and will continue to be sorry for all the dumb vile shit I've said in the past."
Jeffree then addressed old photos of himself posing next to a fan who was draped in a Confederate flag after they began resurfacing in June.
"I was asked to be in that photo for shock value because I was 'gay' and obviously not what the flag represents," he explained. "I was mocking the flag but now see how ugly and wrong it is to be next to it."
Jeffree ended his post by asking people to stop sharing the graphic images of him self-harming, calling the photos "triggering". He then went into further detail on his Instagram Story.
"Me bleeding and cutting with a razor, someone who has suffered with self-harm and issues like that for a very long time, it's been horrible. It's been horrible. It's been to wake up every morning, click an app and see pictures of me cutting. It's very triggering and awful," he said.
Jeffree stressed that he is proud of his brand for being inclusive, he said his previous comments were "uncalled for", and he's now all about "change". However, he couldn't resist addressing one more thing.
Jeffree decided to touch upon his former friends coming out of the woodwork with "crazy lies" about him. Whilst he didn't mention the name of the friends in question, Kameron Lester, who used to be close with the beauty guru, recently accused Jeffree of using him as the "token Black kid" in his Jeffree Star Cosmetics campaigns.
Seemingly in response, Jeffree said: "I'm not going to entertain people that want clout and attention and followers […] We're not going to entertain it, we're not going to feed into the negativity, I'm not going to give an ounce of fucks to these people who are literally making up shit out of thin air."