Jeffree Star denies sexual assault and physical abuse allegations
2 October 2020, 15:35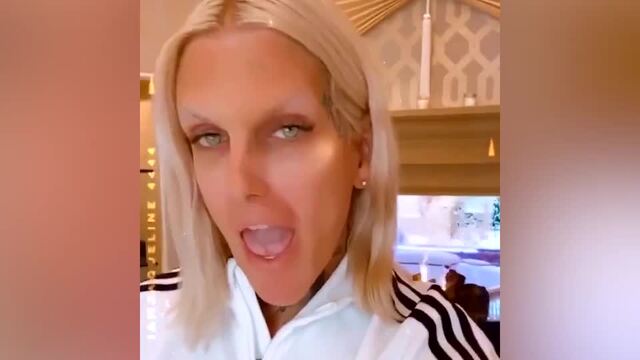 Jeffree Star says his ex Andre Marhold stole from him
Jeffree Star's attorney's have denied all allegations against him.
TRIGGER WARNING: This article contains details about sexual assault and abuse.
Jeffree Star has been accused of sexual and physical assault with close-range stun guns to hurt and intimidate the people around him.
According to an Insider investigation, multiple people who were close to the YouTuber during the late-2000s, when he was at the height of his MySpace fame, have alleged they witnessed Jeffree exhibit abusive behaviour on a number of occasions. They also claim that he would grope people without consent.
In 2009, Jeffree allegedly used a taser on homeless teen Gage Arthur, after he rejected his advances during a group trip to the cinema. Five witnesses allege they saw Jeffree use a taser on Gage in the parking lot of the cinema after he rejected him.
Gage, who identifies as straight, later stayed at Jeffree's apartment for the night and he claims Jeffree gave him Ambien (a sedative usually used to treat insomnia) until he was intoxicated and performed oral sex on him without his consent.
READ MORE: Jeffree Star breaks up with Andre Marhold and claims he stole designer items from him
In 2007, Britain Strah, who had just turned 18 at the time, said Star groped him before his performance at Bitoz Pizzeria in Anchorage, Alaska, where Britain worked at the time. "I was just kind of shocked," Strah told Insider.
"After a while it dawned on me that it was pretty fucked up. When the 'Me Too' stuff started happening, all these things that seemed to be smaller transgressions were coming out, and I was like 'Woah, wait a second, I was assaulted.' It had never really clicked." Several people also told the publication that Jeffree would regularly use tasing devices to hurt others. 
Jeffree's attorney has denied allegations of physical and sexual assault. Of Britain's claims specifically, Jeffree's attorney's told the publication: "Mr. Strah used this same fabricated story six years ago to try and extort money from Mr. Star." However, Britain denied that he ever contacted Jeffree asking for money and Jeffree's legal team did not provide evidence of this.
After Insider told Jeffree and his attorney about the allegations, several people who had made on-the-record claims about Jeffree contacted Insider to change their stories. In text messages obtained by the publication, two of the on-the-record sources discuss allegedly being offered $10,000 to retract their statements.