Here's How Daily Vlogging Can Damage Relationships And Mental Health
23 May 2016, 16:58 | Updated: 8 May 2017, 17:09
After the news of the Prank vs Prank break-up, are the pros of Daily Vlogging really worth the stress that comes along with it?
For those who have yet to experience the wonder of daily vlogging, let us enlighten you. It's is a form of video content in which the YouTuber films parts, or all, of their day. Joe Sugg is not one of them. But let's get real for a sec... daily vlogging might just end up ruining you.
Last week, vloggers Jesse Wellens and Jeana Smith of YouTube juggernaut Prank vs. Prank (and vlog channel BF vs. GF) uploaded a video in which they announced their separation. In the emotionally charged and brutally honest video entitled 'A New Chapter', Jesse and Jeana sat down to explain how the pressure of vlogging has damaged their relationship and their own mental wellbeing.
Watch the intense 10 minute video below:
Jesse and Jeana's decision to quit and go their separate ways means they'll be leaving behind almost ~18 million subscribers~ across their two channels as well as their YouTube Red show, Prank Academy. So here's our question, is daily vlogging really worth it? And is it actually a sustainable career?
Joe Sugg... not a daily vlogger. (via tumblr.com)
Being a daily vlogger has it's pros and cons. The pros? Delivering content everyday means more views, more subscribers and ultimately, more money. It's a chance to engage with your audience on a much more intimate level than say, a main channel video.
For viewers, it's a win win situation. A chance to spend 20 minutes everyday flying around the globe with your favourite YouTube stars, getting to know the ins and outs of their personalities and sharing a few in-jokes? Sign me up!
But with that same innocent human curiosity, comes negative backlash. So why continue to put your entire life out there if the negative is starting to affect your own personality? Yeah, it's only 20 minutes of their actual day, but is it really when you think about it?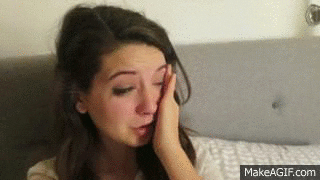 Zoe's 'Sometimes it Gets A Bit Too Much' (via tumblr.com)
As Jesse explained in the video, he and Jeana had changed personally and their relationship had been strained ever since they started gaining more viewers and putting out more videos. They became untrue to themselves and started 'living for the vlog'. As a result of the stress and viewer opinions, their relationship and entire brand is seemingly over.
Cracks are already starting to show in some of YouTube's mainstays, who all run a vlog channel alongside their main channels - Alfie Deyes, for example, has previously threatened to quit daily vlogging if he continued to receive negative messages. Zoella also poured her heart out in a video back in 2015 entitled "Sometimes It Gets A Bit Too Much", where she talked about the pressure of maintaining her commitment vlogging.
Pewdiepie even weighed in on Jesse and Jeana's current situation by announcing he too found vlogging a massive pain in the ass.
I daily vlogged for only a month once and could totally relate to this: https://t.co/xqLSqkG6iW
Cant image what its like to go on for years

— piepiedew (@pewdiepie) May 21, 2016
When you think of the family vloggers such as the Shaytards and the Saccone-Jolys, you have to wonder if the pressure and the mundane routine of filming, editing and uploading every single day for 365 days a year takes it's toll. You also have to wonder if after all those years spent doing the same thing every day, how much they actually stage for the vlog to keep it interesting.
It brings us back to Jesse's main point, "It gets to the point where it starts to feel like a job and you're not doing things because you love the person, you're doing them for a vlog."
Are the subscribers and the ad revenue really worth the mental stress of maintaining such a MASSIVE brand and potentially losing your true self in the process? Absolutely not. YouTube isn't going to last forever, we know that. So how long can these YouTubers continue to keep up the daily vlogs before it breaks them too? :(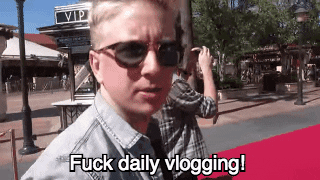 Tyler Oakley - definitely not a daily vlogger. (via tumblr.com)