JoJo Siwa reveals she has a boyfriend but they don't want to go public yet
19 June 2020, 12:51 | Updated: 15 July 2021, 16:58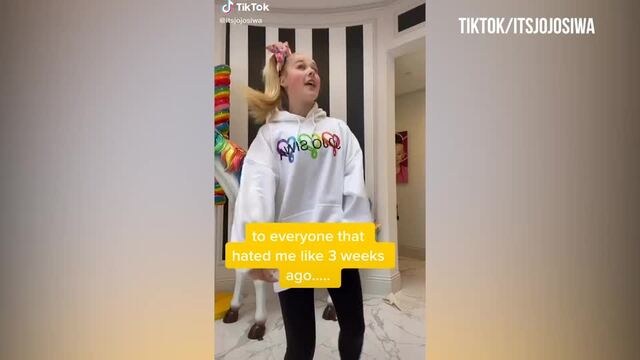 JoJo Siwa keeps roasting her haters on TikTok
"Honestly he's a dream"
Gay icon and hair bow advocate JoJo Siwa is growing up before our very eyes, and now she's confirmed that she has a boyfriend - you're just not allowed to know who he is yet.
You might recall rumours that JoJo, who is 17-years-old, was dating a guy named Elliot Brown from her home state of Nebraska, following photos and videos JoJo posted of the pair together on her Instagram.
READ MORE: JoJo Siwa says today's music is "not true music"
Fans expressed concerns about the "relationship", as when fans googled Elliot's age, it said he was 28-years-old. Thankfully, it turns out that he's actually 18 and he is a family friend, NOT her boyfriend.
So who is JoJo's mysterious guy?
Speaking to Seventeen, the tall legend revealed that her boyfriend has asked that they keep their relationship private for now: "It's really up to him."
JoJo said that she doesn't mind either way if the relationship is public or private, as she shares so much of her life online already.
"I'm really in the public light and the thing is is like, I don't care," she admitted. "That's a side of my life that I can keep public or I can keep private."
Of course, her boyfriend probably isn't used to the attention, so we can understand why he might be cautious about letting the rest of the world in.
JoJo seems smitten with her boyfriend, who she's been dating since May. "Honestly he's a dream," she said. "Really, truly unreal and I'm so happy."
We try following a "Jojo Siwa look" tutorial | PopBuzz Guide
Recently, JoJo has been seen letting her hair down - literally!
Her neon bow and ponytail combo might have made JoJo famous but she has shocked fans by revealing a more natural side of herself on TikTok.
With her hair down and natural curls out, the 'High Top Shoes' singer looked almost unrecognisable - and totally grown up.
After asking her 19 million followers what they'd want to see her do if they could pick anything, she later posted a video in various glitzy costumes that ended with her in a simple t-shirt and wavy hair that had everyone shook.
It seems like fans are loving her new look with over 39,000 comments praising her natural hair: "YAASSSS! LET THAT BEAUTIFUL HAIR FLOW!! (But only if that's what you want to do. No pressure)", one wrote, while another admitted: "I never thought I'd see the day...this hairstyle really suits you."
We're sure JoJo's fans are looking forward to her stepping out with her new man, and will be extra excited if they caught a glimpse of that wavy hair too!