JoJo Siwa has dyed her hair brown and the internet is losing it
29 June 2020, 14:54 | Updated: 15 July 2021, 17:01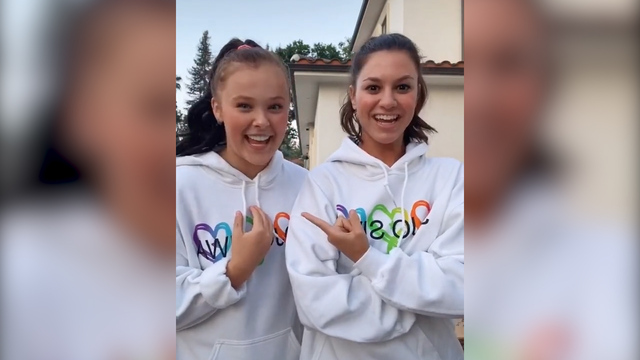 Jojo Siwa debuts new brown hair on TikTok
JoJo Siwa has debuted brunette hair on TikTok following speculation that now she's 17, she's no longer contractually obliged to follow her signature ponytail-bow look.
JoJo Siwa is officially all grown up. And despite the fact she's actually only 17 years old, the dancer-turned-YouTube star is starting to leave her signature look behind in favour of something more mature, and now she's officially ditched her bow and blonde hair for a brunette ponytail.
The "NonStop" singer, who has been bleaching her hair blonde since she was six years old and appearing on TV show Dance Moms, debuted her new look on TikTok in a shocking move...but everyone is actually kind of loving it.
READ MORE: JoJo Siwa reveals she has a boyfriend but they don't want to go public yet
Following her first shocking move in April, whereby she posted a makeup-free hair-down selfie, JoJo has since celebrated her 17th birthday, got herself a boyfriend, bought her own house complete with built-in merch store, and now it seems like she's really becoming an adult by embracing her inner brunette.
Revealing the look, she lip synced to Miley Cyrus' "Can't Be Tamed" sporting her usual blonde locks, before flipping her hair to reveal her new dark brown, unaccessorised look. And we've got to say, she looks pretty damn good.
See for yourself...
Of course, no one could quite believe it was real at first (because lets face it, there are so many great TikTok filters out there right now), but she seemingly confirmed the transformation by partnering with a friend for another video pointing out that they look like twins.
Notice anything else different? That's right, she's ditched the bow and gone for a regular back ponytail instead of the wild side hairstyle we're used to seeing...
Ok, we're officially obsessed. And it seems like everyone else is too as the video has over 1.6 million likes in 48 hours.
"JoJo you're literally going to save 2020" one user commented, while another added, "this bout to be a cultural reset. "
Fans are also loving the choice of music, as it was the song that Miley used when going through her own transition, and as 17-year-old JoJo gets older, rumours have circulated about whether she's no longer contractually obliged to play herself as a character for her younger audience.
Jojo Siwa dyed her hair brown and she posted about it with 'Can't Be Tamed' playing in the background omg her rebellion is starting

— ♡ alejandro ♡ (@alexeder_) June 27, 2020
the way i gasped when i saw jojo siwa's new hair. that contract must be UP MY GIRL IS FREE !

— kati kmaro ➐ (@kaymaree__) June 27, 2020
jojo siwa dyed her hair brown which means there are officially no constants in life

— kristen (@whoiskris10) June 28, 2020
JOJO SIWA HAS BROWN HAIR THIS IS NOT A DRILL

— concussed bastard (@feliznavistop) June 28, 2020
jojo siwa dying her hair is a big fuck you to walmart as a corporation trying to profit off her image. in this essay i will

— strawberry SIMP (@west_ofthe_moon) June 29, 2020
If you're familiar with JoJo, you'll also probably be familiar with comments about her appearance, as well as her obsession with glitter and colourful clothing, which has been branded countless times as 'childish'.
But, while the new hair may seem like a bold move away from that, she's already confirmed that her signature style isn't going anywhere just yet. "The bow will never be over," she told Entertainment Tonight in a recent interview. "I mean, the bow is my life. I loved it ever since I was little. It's become who I am."
Don't throw them away just yet...
READ MORE: QUIZ: Are you more Gen Z or Millennial?