JoJo Siwa knew she was gay when she didn't want to have sex with her first boyfriend
5 October 2022, 15:08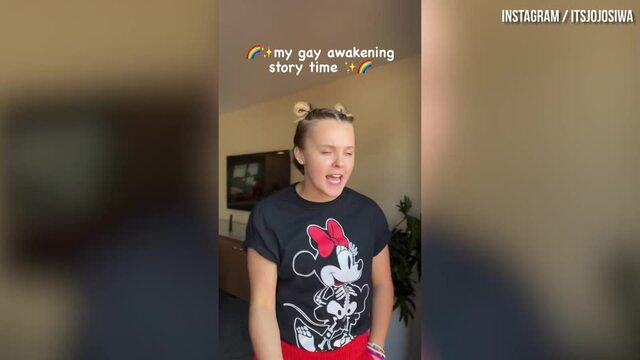 JoJo Siwa reveals when she had her gay awakening
JoJo Siwa has opened up about her gay awakening in a new video.
JoJo Siwa has revealed that she first realised that she was gay when she didn't want to have sex with her now ex-boyfriend.
Fans of JoJo Siwa will already know that the 19-year-old star came out as a member of the LGBTQ+ community last year. In an interview with People, JoJo later said: "I still don't know what I am. It's like, I want to figure it out. I don't know, bisexual, pansexual, queer, lesbian, gay". JoJo then explained that she personally uses the terms gay, pansexual and queer.
Now, JoJo has opened up about her gay awakening and how it involved her first boyfriend, TikTok star Mark Bontempo.
READ MORE: JoJo Siwa claps back at haters who say she can't sing with a Pink cover
In a new Instagram reels video captioned "my gay awakening story time", JoJo explains that Demi Lovato and Jenna Dewan played a significant role in her coming to terms with her sexuality.
JoJo says: "When I was 12, Demi Lovato came out with the song 'Cool for the Summer'. I really, really liked it and I listened to it all the time. I didn't know what it meant back then but now that I'm much older and I understand it. Then a few years later, Jenna Dewan went on Lip Sync Battle. She did a really great Magic Mike number. I watched it every day."
JoJo then reveals a pivotal moment for her. She says: "Little me, she didn't know she was gay until, a couple years later, a man was my first date and he wanted to have sex with me and I did not want to, never wanted to, grossed out by the thought of it, immediately knew men are not my thing, women are my gig, gotta go.
While JoJo doesn't mention Mark Bontempo, who is currently 21 years old, by name, he was her first public boyfriend and it seems likely that she is referring to him in the video.
Read more JoJo Siwa stories here:
Drag Race UK's Starlet Says She Meant "No Disrespect" To Judges Following Dramatic Exit