Lele Pons Got Caught "Donating" Extensions To Charity And People Are Fuming
10 July 2017, 13:00 | Updated: 10 July 2017, 16:18
She has since responded to the situation but people still aren't happy.
A few days ago, Lele Pons (one of Vine's biggest users who recently moved to YouTube) posted a picture (now deleted) of herself with a killer new haircut. Beside her stood a friend holding her locks in a tidy ponytail with the caption "DONATED MY HAIR!!!! First time I ever cut my hair. What do you think???"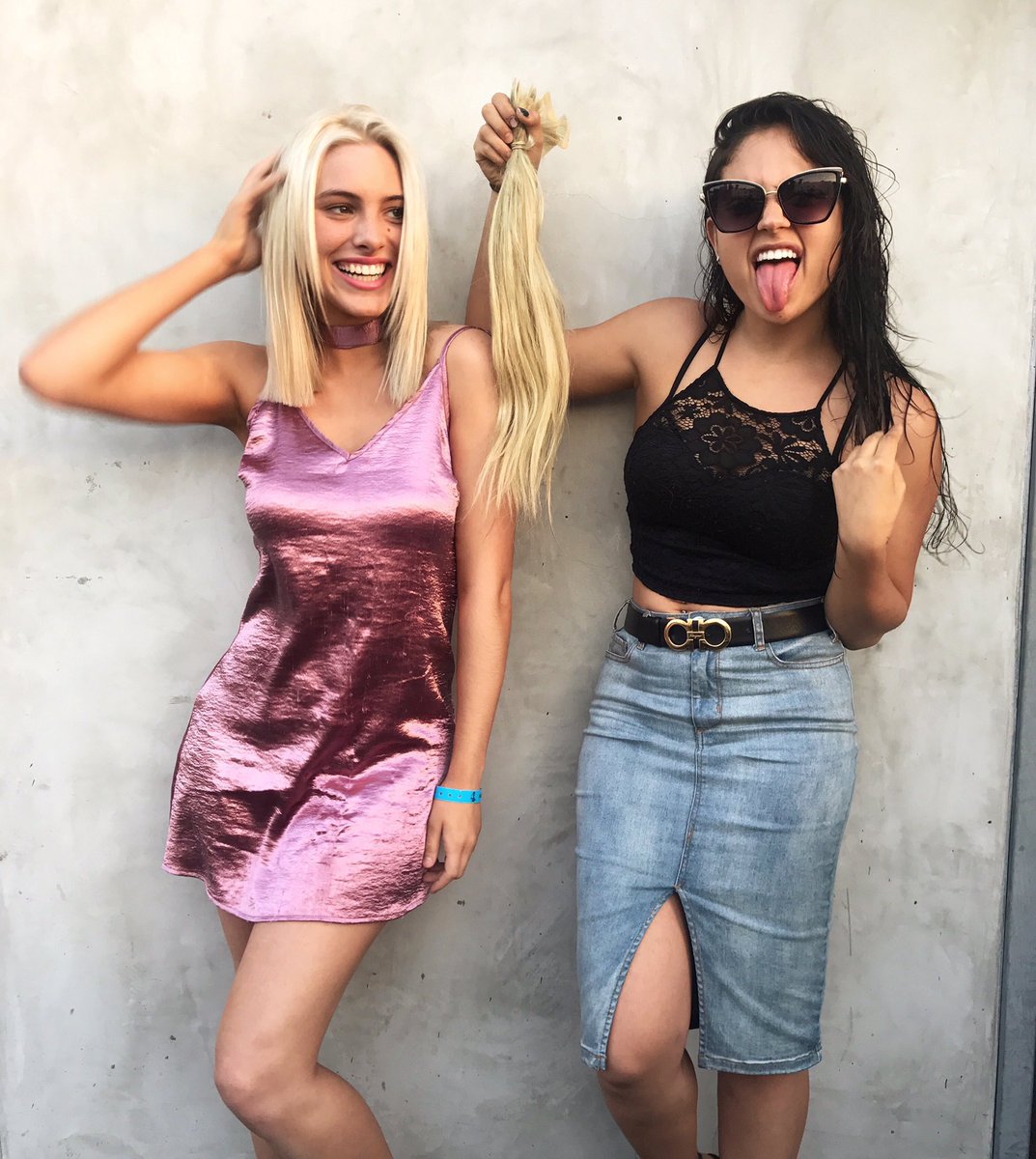 @LelePons / Instagram
Why did this piss everyone off? Well, on closer inspection, it was discovered that the "donated" hair in the picture was actually a bunch of blonde hair extensions. You can see the tracks at the top by the band as pointed out by Twitter user @emily_graceffa.
Care to explain how you chopped off your "hair" and "donated" it @lelepons?? Last time I checked you can't donate extensions. pic.twitter.com/mUvckfllDa

— Emily (@Emily_graceffa) July 7, 2017
Instead of responding to the tweet and immediately setting the record straight, Lele then blocked Emily.
Her explanation pic.twitter.com/E39T5C1Eho

— Emily (@Emily_graceffa) July 7, 2017
If you don't already know, there's a few rules to donating hair that you may not know about. Hair must be natural, un-bleached and preferably one length (layers are accepted if the longest length is 10in.) They do not accept extensions either. So when Lele claimed that she had already "donated" the hair which she must have done so with a little bit of prior research, everyone started calling her out on it.
Lele pons literally pretended to donate her hair when It was extensions and her hair is bleached loool

— lexi (@hellopignoli) July 7, 2017
even if the extensions were just for "demonstration" you can't donate bleached hair bye girly

— miko (@MikoBaiko) July 7, 2017
who would do something like that pic.twitter.com/w6xZPWPUG4

— Holly Cole (@hollycole201) July 7, 2017
After a few hours, Lele responded to the issue. She apologised for the misunderstanding claiming she had intended to donate it when she initially cut it but later realised that bleached hair could not be donated. She later sent a picture of her ACTUAL hair to Buzzfeed News (not in her original Instagram picture) but didn't explain why she used the extensions in the Instagram post.
2/ Sadly after trying, I learned charities who donate wigs don't accept color treated hair.

— Lele Pons (@lelepons) July 8, 2017
3/ So I'm finding other ways to help those affected by hair loss b/c of cancer. This is still a priority for me.

— Lele Pons (@lelepons) July 8, 2017
Needless to say, some people still weren't having it, claiming she used to extensions in the picture for more likes on Instagram.
Ok but why did you still claim to donate your hair in your picture when they were clearly extensions pic.twitter.com/kWt3f6jL2q

— gabriela (@TheGabrielaT) July 8, 2017
She tweeted it when she knew it wasn't true, blocked the person who pointed it out, then played victim???? What are you proud about exactly?

— Marissa (@BoiMcFacto) July 8, 2017
don't say you donated it if you didn't then

— marián (@marianalejandrx) July 8, 2017
I appreciate that you are finding other ways to help but why did you say that you donated when you didn't?

— Emily (@Emily_graceffa) July 8, 2017
Lele pons couldn't get views from assaulting herself on vine anymore so now she's doing fake charity work for likes. What a gal

— jamie corbett (@justjamiie) July 8, 2017
Footage of lele giving up hair to donate pic.twitter.com/oFMx3SrWL6

— jackkkkk (@coIIabing) July 7, 2017
For more information on donating hair to help children and people who have suffered hair loss, click here if you're in the UK and here if you're in the US.
____ ____ ____ ____ ____
Listen to the #PopBuzzPodcast with Tom Holland and Zendaya right here or subscribe for free on iTunes to get new episodes sent straight to your phone every Friday.