PewDiePie Is Caught Up In Some YouTube Drama… About YouTube Drama
19 April 2016, 12:04 | Updated: 8 May 2017, 17:09
"YouTube is a drama machine"
It's more than likely that you're familiar with PewDiePie's (real name Felix Kjellberg) work. He's the highest earning YouTuber, according to Forbes, he's one of the platform's most successful gamers, and he put out a book late last year called This Book Loves You. Now that you're all caught up, you may be surprised at what the OG YouTuber is saying about "YouTube Drama".
His latest video addresses what he calls the "mob mentality" and culture of YouTube drama. "YouTube has a problem," he says at the start. "YouTube has a lot of problems."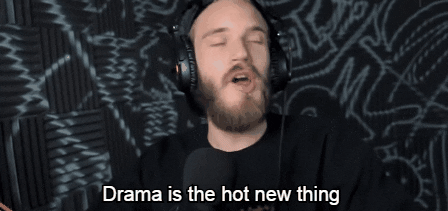 Kjellberg has been on YouTube since 2010 and has, no doubt, seen the culture of the platform shift dramatically over the course of the half decade. Now, what's really got his goat are the forums and channels dedicated to delivering people the "hot new drama" of the day.
Ironically, by calling out "drama", PewDiePie has started some drama of his own. It's pretty obvious that he is making direct reference to YouTuber KEEMSTAR who runs a channel called Drama Alert, plus a couple of other channels that specialize in drama and putting people on blast. He even sent him this tweet after the video went up.
@KEEMSTAR dm?

— piepiedew (@pewdiepie) April 17, 2016
oo00ooh, drama.
PewDiePie makes the point that people using the platform to put people on blast is kind of ridiculous (true) but Keemstar fires back blowing the lid off he fact that different types of people make different types of content (also true). And, just because PewDiePie makes one type of content, doesn't mean that he should condemn anyone else who makes different types of content.
Truth about @pewdiepie pic.twitter.com/ovmnRb8Hv6

— KEEM (@KEEMSTAR) April 17, 2016
SHOTS. FIRED.
.@pewdiepie thanks for making that vid about how Drama is so bad.
Now if u could only stop calling Youtubers out, u might have a valid point

— KEEM (@KEEMSTAR) April 17, 2016
So does PewDiePie have a point? Yes and no. The salacious nature of some of these accounts definitely breeds an environment that isn't fun to be a part of--especially as a Creator. But, what PewDiePie refers to as "drama" is often times just social commentary. We've been making commentary about culturally significant events for, quite literally, ages. YouTubers doing the same isn't new or groundbreaking--it's human nature.
It's understandable why PewDiePie would hate this type of content. He is the most successful YouTuber and often finds himself at the center of these controversies. He is right when he says that people "put in their two cents to get twenty back". We've seen that with YouTubers like Nicole Arbour, KSI, and others.
Has YouTube become a drama machine? Definitely. Not because of the platform itself but because it's a community of humans on the planet earth. We instinctively love intrigue and that will likely never change.
Hate seeing all my favourite YouTube arguing about YouTube drama? We're so lucky to do what we do. Lets just make videos and shut up

— Daz_black (@daz_black) April 18, 2016
You can't blame a news station for the crimes they report so why is it logical to blame @KEEMSTAR for the drama on YouTube idiots

— chloe brierley (@chloeoforixn) April 18, 2016
YouTube drama about YouTube drama. Cmon guys..

— Jordi v/d Bussche (@Kwebbelkop) April 17, 2016
What is drama?

Pewdiepie, Markiplier e.t.c have all said they hate it and that it's ruining YouTube. Is that not drama?

Define drama...

— Colossal is Crazy (@ColossalisCrazy) April 16, 2016