#TeamInternet Just Won A Golden Globe - What Does It All Mean?!
12 January 2016, 16:19 | Updated: 8 May 2017, 17:09
THE FUTURE IS NOW!
In case you missed it, Rachel Bloom became the first YouTuber to win a Golden Globe on Sunday for her show Crazy Ex-Girlfriend.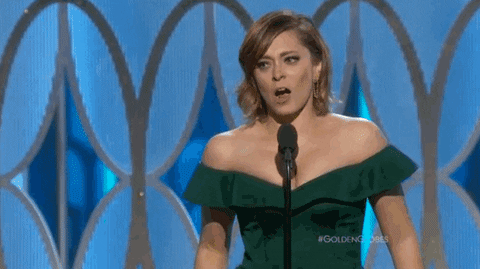 NBC / via giphy.com
Not gonna lie guys, but we were pretty excited when we heard Rachel name drop YouTube in her acceptance speech on Sunday night so we went in search of her channel. You can find her at 'racheldoesstuff'.
Rachel, a comedian that specialises in musical comedy, started using YouTube as a platform to present a concept. She had little over 50,000 subscribers but still earned a respectable following, with her most popular video currently sitting at 3m views. She was noticed by screenwriter Aline Brosh McKenna and together, they created the show. NBC / via giphy.com
In previous years, comedy powerhouses have filled the spaces in the Best Actress In A TV Comedy category at the Golden Globes. Rachel Bloom was nominated alongside Jamie Lee Curtis, Lily Tomlin and Julia Louis-Dreyfus. Does Rachel's success bode well for our favourite YouTube content creators' future in mainstream media?
E! / via giphy.com
The Golden Globes has recently started to embrace fresh new faces and original concepts in their TV Comedy categories - ENTER YOUTUBE! While Grace Helbig has already tried, and unfairly failed at transitioning from YouTube to mainstream TV with her quirky chat show, The Holy Trinity (Hannah Hart, Mamrie Hart and Grace Helbig) have the kind of charm and creativity to emulate Rachel's success. With Mamrie's connections at the comedy troupe UCB, and the trio's natural gift for comedic timing, we wouldn't be surprised if we ever saw this squad hit the big time.
Shane Dawson sold a TV show concept to NBC in 2013 and has been developing it ever since. Flula made an appearance in Pitch Perfect 2, and he is about to join a show called Cuckoo, also in development with NBC. And Todrick Hall has been given the MTV treatment with his own reality show about what exactly goes into all his creative videos.
via giphy.com
They've all got the originality and creativity to make it, but as Rachel pointed out, it's a MASSIVE uphill struggle to make the transition.
Who do you think has what it takes to break out and hit stages of Award Season? Let us know!