5 Vloggers Every Tattoo Addict MUST Binge Watch On YouTube
8 June 2016, 17:41 | Updated: 8 May 2017, 17:09
Inkspiration!
YouTube is a great resource for learning about...well, pretty much anything. Tattoos aren't any different.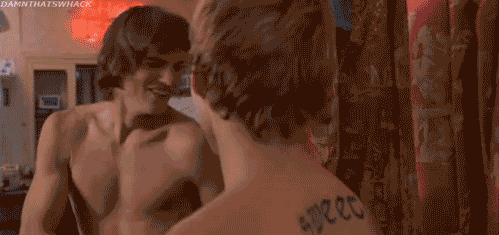 giphy.com

Whether you want to look up designers, find the latest trends, or perhaps you need some tips on aftercare, there are plenty of tattoo enthusiasts out there on YouTube to help you. It's people like this that really make YouTube such an amazing community of creative and inspiring people. We're getting all emotional just thinking about it!
imgur
EWWWW! Maybe not.
Without any further ado, here are 5 people you really ought to be following for tattoo advise.
Romeo Lacoste
Not only is Romeo Lacoste an incredibly beautiful man but he is also a very talented tattoo artists. His channel is filled with tons of funny and interesting videos but best of all there are time-lapse videos of him tattooing other YouTubers including Tyler Oakley and his mum! Yaaasss! When are Casper Lee and his mum gonna get matching tattoos, that's what we wanna know!
Monami Frost
Now for some nice family tattoo fun. Monami Frost is slaying the tattoo game and the motherhood game all at the same time. Monami posts quite a variety of stuff from giving tips on tattoos, makeup tutorials and even cooking recipes, and the videos often feature her husband and adorable daughter too. It can get a little made sometimes, particularly when her husband is tattooing Monami's face - on a different person!

Kiera Rose
OK we need to talk about Kiera Rose. She isn't a tattoo artist herself but she knows her sh*t. Her channel is full of tattoo, we particularly love the video above where Kiera goes through all her favourite tattoos artists (yeah, probably to get a free tattoo, can you really blame her?) She recently also made a really insightful and honest video on YouTuber sponsorship, proving she's totally transparent with her subscribers. Respect.
Kat Von D
Kat Von D is so famous now your mum probably knows about her. Sadly, she's not actually on YouTube but there are so many videos of Kat out there it felt a little weird not to include her on this list. One of our faves is this video where she surprises Julien Solomita with a mystery tattoo. It's fascinating to hear her talk through the design and how she's going to actually tattoo the damn thing. She's living legend. Truly.
Katrin Berndt
Omg we love Katrin. Not only is she adorable but she has some of the sickest tattoos on the internet. They're big and colourful and we want to copy all of them. She's also from Sweden, so obviously she's an OG. We'd definitely recommend Katrin's videos if you want to learn about different styles of tattoos and how to mix them, as the video above handily demonstrates.

Which other tattoo obsessed youtubers should we be following? Let us know in the comments.