Zoella Is An Oracle For Girls And We Can Prove It
9 December 2015, 13:10 | Updated: 8 May 2017, 17:09
Zoella taught us everything we know.
Zoella is a divisive figure. Suffice to say, you either love the YouTuber or you just can't stand her. Her critics and supporters seem to be evenly matched when it comes to their passion for the 25 year old beauty guru. Either way, there's no denying the fact that there is so much to learn from Zoella.
How to overcome your fears...
Zoella has talked openly and candidly about her anxiety. In the YouTube produced documentary, The Creators, fans can see just how much Zoella's anxiety plays into her daily life. Zoe shares her experience with panic attacks and how she has used YouTube as a way to manage her fears. Although Zoella has been accused of being a "glossy" YouTube personality, her willingness to share her struggle is an important example to young girls who may be going through their own anxiety issues.
How making lots of money is a great way of telling everyone to f*ck off...
At 25, Zoella has made the type of money people her age (or any age) can only dream about. Her net worth is estimated at £3 million and she was able to purchase a 1.5 million pound home with boyfriend, Alfie Deyes. She's stacked. People are seemingly obsessed with how someone that young can make that kind of money. Zoella made smart brand decisions early on, invested in property at a young age, and totally understood her audience. There's no point in asking how she made the money. She worked hard and caught the right breaks and she has never apologised for her success.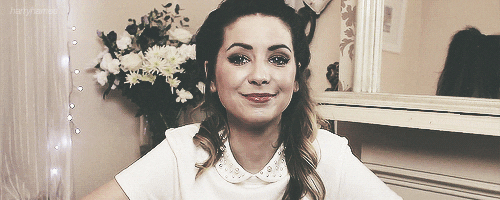 How to deal with critics...
It seemed like, for a while, there was a new Zoella controversy every day. She made too much money, her book was ghostwritten, she performed a blood sacrifice under the cover of darkness etc. Despite the pressure from haters, she has yet to lose the plot. When her ghostwriting book controversy was in full force, she calmly admitted that she had received help writing the book. Even recently, when she was accused of having a ghostwritten blog, Zoe firmly stood up for herself on twitter, roundly shutting down the accusations. Being a young woman with a massive audience has opened Zoella up to huge criticism but she has yet to let it overwhelm her.
"Zoella witch hunt". Appreciate it. Im going to go and write my blog now...

— Zoë (@ZozeeBo) November 12, 2015
How to have a very public relationship...
Zalfie have been going strong since 2014. Both popular vloggers from the onset, Zoe and Alfie have found a way to share bits of their life, collaborate professionally, and deal with all the weird stuff that happens when you have a public relationship (see: Zalfie Fanfiction). Whether you're a Zalfie fan, it's hard to ignore how smoothly the pair combine their personal and professional lives without breaking a sweat.
How to make the right decisions for your personal brand...
Zoe and her nearly 10 million subscribers are perfectly in sync. She created an extremely loyal audience very early on who have bought her book, listened to her recommendations, and purchased her own brand of cosmetics. Her methodically crafted personal brand is a result of an active social media presence and the obvious intent of cultivating an audience with similar taste to her. Anyone looking for half the online career Zoella has would do well to mimic her meteoric trajectory.
How to be confident...
Zoe is obviously not a perfect person. She has talked about her mistakes and insecurities in the past but it takes a certain level of confidence to sit and talk into a camera when you can be sure it will always draw criticism at some level. Taking yourself from a small time blogger to a massive brand requires a certain level of confidence and self assurance.