Hype House's Daisy Keech is suing fellow members Chase Hudson and Thomas Petrou
2 April 2020, 09:31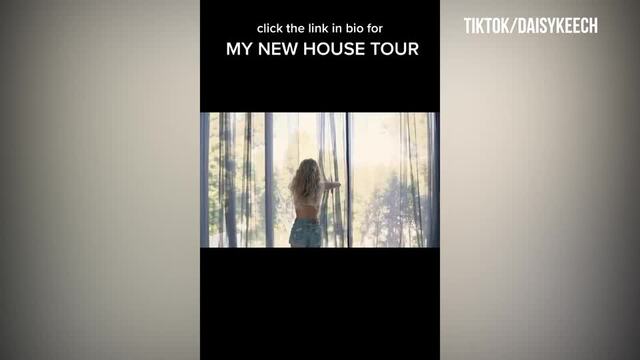 Hype House co-founder gives fans a tour of her house
Daisy Keech has left Hype House to set up another creator house called ClubHouse, following a huge falling out with co-founders Thomas Petrou and Chase Hudson.
It was only a matter of time before there was drama in TikTok's most coveted creator group, Hype House - and this time, it's co-founder Daisy Keech that has something to say about it, after she walked out just days ago.
READ MORE: QUIZ: Which member of TikTok's Hype House are you?
20-year-old Daisy founded the house alongside Thomas Petrou and Chase Hudson, who she's taking legal action against, for leaving her out of decision making and brand deals - despite the fact she put down $18,000 for a deposit towards the house when they were starting out.
After it came out that the TikTok dancer would abruptly be leaving Hype House, she uploaded a 22-minute video to YouTube detailing what had happened, and why it was the final time she'd be addressing it on social media.
In the video, she explains how she'd met Thomas during her time in Team 10 (Jake Paul's creator house), before the pair became close and came up with the idea of branching off into their own creator house - which would then become the Hype House.
Daisy and and Chase (also known as Lil Huddy) put down 18K towards the lease of the mansion, while 21-year-old Thomas could only afford $5,000.
Despite this, she explains that he quickly appointed himself as the manager of the group and would "block access to emails, the Hype House social accounts, and portray the group to the media how he wanted to be seen."
She then explains: "He loves to have power. "It started to feel like a f*cking dictatorship in this house. A house that he barely even paid for," before adding that despite him claiming the creator house had no money, would come home with expensive items and was looking into buying a Tesla (which retail for around $100,000 upwards).
Truth about the Hype House
Things started to turn sour between the pair when Thomas would host parties and music video shoots in the house without permission (despite Daisy being the leaseholder, making her responsible), and would repeatedly refer to himself and Chase as the co-founders - before referring to Daisy as a "hot Instagram model with a shelf-life" when her lawyers got in touch to question why she was being left out of the business side of things.
More recently, the TikTok-er with almost 3 million followers also decided to take a stand and asked for her percentage of the business to be calculated, to which she was met with the response that her $18,000 deposit was "just so a bunch of friends could live together and not about the hype house". Yikes.
READ MORE: Charli D'Amelio apologises after being accused of mocking cosplayers on TikTok
She also claimed that Petrou would even turn down opportunities for other members of the house despite them wanting to take part, adding that he had said "It's not your decision, I make all of the decisions around here," - before she decided enough was enough, and left the house and got her legal team involved.
When Thomas got wind of the situation, he immediately called a house meeting and "asked the other members to unfollow and block" Daisy.
My NEW house Tour *clubhouse**
Forbes have reported that she's now taking legal action against both Thomas Petrou and Chase Hudson, but despite drama in the Hype House, it's clear that the creator isn't letting the situation bring her down, and has already founded and moved into a new creator house, Clubhouse, over the last few days.
Giving a tour of the elaborate mansion on YouTube, a lot of the comments reference how her original house have missed out on her talents big time, and can't even compete with her new abode that has a damn elevator in it. Goals. We could never.
We haven't yet had an insight into who's in Clubhouse, but it's clear that she's owning her inner girl boss after people tried to tell her she couldn't.
Major. We can't wait to see what they create.