Everyone is losing it over Trisha Paytas' baby ASMR video
22 September 2022, 16:39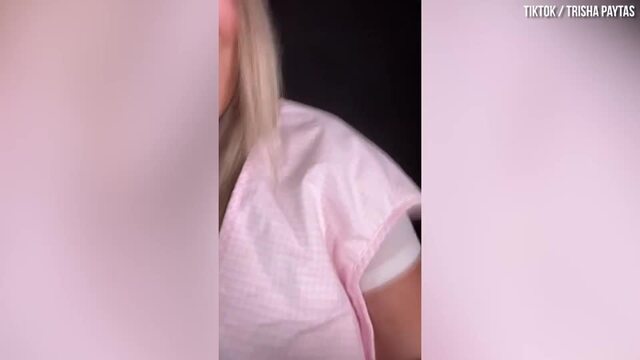 Trisha Paytas baby ASMR video goes viral
The video is a POV video in which Trisha Paytas pretends that the viewer is their baby.
New mum Trisha Paytas has created a baby ASMR video and the internet has opinions.
Trisha Paytas gave birth to her first child, daughter Malibu Barbie Paytas-Hacmon, on September 14th, 2022. Taking to social media to announce the birth of their daughter, Trisha and partner Moses both shared an adorable set of photos.
"She has arrived 💕 Meet our daughter, Malibu Barbie Paytas-Hacmon 🙏🏼 born 09.14.22 😇" wrote the 34-year-old in an Instagram caption.
Moses wrote: "Malibu Barbie Paytas Hacmon 💝happiest day of our lives! 💝@trishapaytasbackup I'm am so proud of you! You made this experience so special and delivered a beautiful healthy baby. [sic]"
A week after their daughter's birth, Trisha stunned the internet when they shared a, quite frankly, iconic ASMR video in honour of their baby daughter.
READ MORE: Trisha Paytas named her baby Malibu Barbie and people are living for it
"POV ur my newborn baby 🤱🏼💕", Trisha captioned a viral TikTok video that received 2.8 million views in less than 12 hours.
The clip begins with Trisha cutting the baby's "umbilical cord" with the camera set up as though you are the baby. She also shakes a bottle of milk and points it at the camera. Trisha then proceeds to "burp the baby" before pretending to cut its nails, brush its teeth and change its diaper.
Raking up over 20,000 comments, viewers were quick to share their thoughts on the bizarre video. "GIRL WHAT-" one person wrote. "This.... this is something," another said. "This is the funniest video i have ever watched," a third commented, while a fourth wrote: "I'm a newborn how do I have teeth already".
Trisha also posted an 18-minute extended version of the video to her dedicated ASMR YouTube channel, Trisha Paytas ASMR. The channel currently has 312,000 subscribers.
ASMR POV You're My Newborn Baby (PERSONAL ATTENTION)
Fans of the channel have praised Trisha for creating the video, which was suggested by a viewer in a previous live stream. "OMG mama you did not have to make an asmr for us so soon. Too giving, I hope you and Moses are doing alright and sleeping well, little Malibu too. lovely asmr Trisha and congratulations" one viewer commented.
"The motherly love here is beautiful. Nothing more tingly than a mother's genuine touch and warmth to make you feel special and like the world is ok. I miss my mom a lot. Thank you, Trisha" a second wrote. A third said: "Trisha has a really sweet heart. Also the camera moving/patting incorporation was so nice."
ASMR is certainly a niche market, but it's clearly working well for Trisha!
Read more Trisha Paytas news here:
Rina Sawayama Reacts To "Industry Plant" Rumour and Paints A Self-Portrait | PopBuzz Meets