Expert estimates how much of the Try Guys earnings are at stake amid Ned Fulmer scandal
12 October 2022, 19:59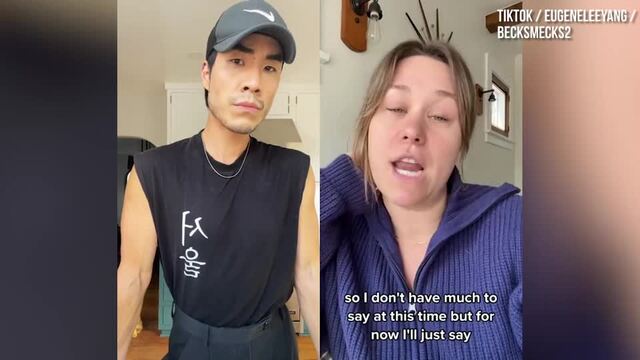 Try Guys Eugene and Becky go viral with Ned video
Zach previously said that the Try Guys had lost a lot of money removing Ned from their videos: "We will not be able to recoup that money but it's a decision we stand by proudly."
If you've spent a single second on social media in the past two weeks, then you'll no doubt have heard more than enough about the Try Guys drama involving Ned Fulmer cheating on his wife, Ariel.
As well as an outpouring of support, the other three Try Guys (Keith, Zach and Eugene) have faced criticism in regards to how they've reacted to the whole thing. People have made fun of the trio for how emotional and angry they've been about the situation – including Saturday Night Live. (SNL were promptly called out by the internet for their sketch, which minimised the seriousness of the situation.)
As they explained in their video statement, Ned's actions have also drastically affected and potentially damaged the successful brand that they had been building for the last 8 years. Clearly, that's a part of the reason why they're angry.
In a report by The Hollywood Reporter, Eyal Baumel, president of creator-centred brand Yoola, has estimated how much of the company's potential revenue could be put in jeopardy by Ned's removal from the group.
"In terms of their influence, they have around 15 million followers across their social media pages and received more than 2 billion views since launching the brand and their channels in 2018 — so they are very popular and understand internet culture very well," Baumel said.
"In terms of revenue, they have 4,000 patrons on Patreon, so if the average patron gives $25 a month they generate around $100,000 monthly. On YouTube, they average 30 million monthly views. With an average RPM [revenue per mille, a metric representing money earned per 1,000 views] of $5, they should generate $150,000 monthly on YouTube. If you add merch, Facebook, Snap and sponsored content, they can generate around $500,000 a month or even more."
As the Try Guys explained in their statement, a lot of the videos they had already filmed with Ned will now no longer be released. They've also completely removed his segments from other videos, as well as removing him digitally. The merch that includes Ned will also no longer be sold. Branded videos that have already been filmed will be released, however.
While it's not the biggest issue of the scandal (there's a whole family at the centre of the situation, as their statement points out), all of those changes have lost the group a lot of money. "We will not be able to recoup that money but it's a decision we stand by proudly," Zach says in the video.
The Try Guys have now said that they will continue on with the brand without Ned. Keith and Zach also recently revealed that they will not be replacing him either. Instead, they will invite different guests and use the opportunity to broaden the diversity in their videos.
Read more about The Try Guys here:
Drag Race UK's Copper Topp Reveals Why Cheddar's Outfit Was Better Than Hers | Drag Race Yearbook