BREAKING: Tyler Oakley Caught Using The Same Joke Three Years In A Row
16 May 2016, 11:30 | Updated: 8 May 2017, 17:09
Come on Tyler, admit it, you know what Eurovision is! It's awesome!
This past weekend (May 14th), the annual festival of pop, fashion and hashtags known as the Eurovision Song Contest took place in Stockholm, eventually being won by the entrant from Ukraine with the song "1944".
The show, as per usual, reached a humungous TV audience of roughly 230 million people worldwide, broadcasting for the first time live in the USA too.
Even good old Timberlake showed up.
Lovely.
But one person who clearly hadn't heard of Eurovision was pop culture fan and Ellen's best mate Tyler Oakley who tweeted about his confusion.
what to heck is a #Eurovision ??

— Tyler Oakley (@tyleroakley) May 14, 2016
Oh Tyler, you need to educate yourself in the wonders of Eurovision!
But wait, haven't we been here before?
when you try too hard to be relatable and have to dumb yourself down every year pic.twitter.com/dESbaC1FL6

— molly (@heyangeIs) May 14, 2016
Hmm. That's a bit odd.
Tyler was straight in with a response though.
@heyangeIs omg thanks for the promo

— Tyler Oakley (@tyleroakley) May 14, 2016
Right...so...do you know what Eurovision is or not?
We're pretty confused tbh.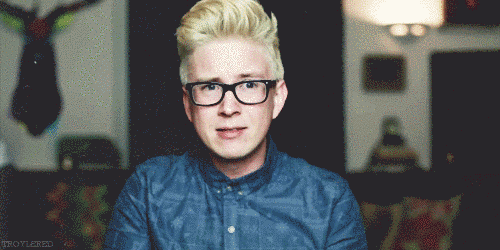 REBELLIOUSKITTEH.TUMBLR.COM
But, elaborate running joke or not, the point is, everyone should watch Eurovision. Every. Damn. Year.