Ooh Gurl! Watch Tyler Oakley And Superfruit Get Shady As Hell In Latest Video
3 March 2016, 10:25 | Updated: 8 May 2017, 17:09
Crying.
If we were to name the three things we love the most in this world, it would be be Tyler Oakley, Pentatonix and the Shady Music Facts Twitter account.
Obviously that's a complete over exaggeration BUT I HAD TO START THIS ARTICLE SOMEHOW, DIDN'T I?!?111!!?!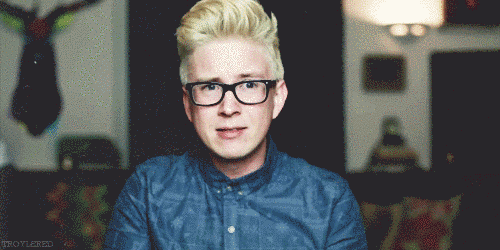 giphy.com
So this video is a little old but we thought it was so funny we had to share with you again!
Tyler stopped by Superfruit's YouTube channel to play a new game called the Shady Music Facts quiz. If you aren't familiar with that account, you seriously need to head over here.
It's essentially a slightly pointless but always HILARIOUS comparison between the world's biggest pop stars. In the quiz, Mitch and Tyler take it in turns to answer questions based on shady facts about pop stars. Scott is the host. It's bloody brilliant. We want to play this game RIGHT NOW.
Anyone free for 5 minutes?
Watch the video below.