How This Couple Made Hella Money And Got Famous On Vine Will Give You #Goals
4 March 2016, 14:34 | Updated: 8 May 2017, 17:09
These guys reveal how they make their super successful videos.
I hope I'm not out of line in assuming that Vine is probably a fully integrated part of your internet experience by now. The platform, launched in 2012, blew everyone away with its success, especially considering its rather limiting 6 second format. Soon people couldn't stop fixating on how much money these mostly millennial creators were making on the app, and how it had spawned a new breed of internet celebrity.
A few weeks ago, Fusion went to speak to two of the platform's most popular creators (who also happen to be dating) and the insight is riveting.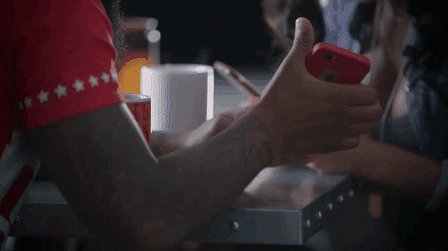 Keraun Harris ("King Keraun") and Simone Shepherd have over three million followers on Vine between them and make Vine videos in their home every day. Simone was a struggling actress and Keraun had spent time in prison before making it big on the platform. Using Vine, they both turned everything around and become major influencers.
First of all, the rumors are true. They make hella bank.
Now they don't get into specifics about the money they make, which makes an actual figure hard to pull out, but in 2014, sponsored posts on Vine could earn a star anywhere from $10,000 to $100,000. We can only imagine what Vine personalities fetch paycheck-wise in the year 2016.
Their future plans include organic product integration (think branded appliances on cooking shows) and a sharp move away from 6 seconds product placements.

And what's it like to be a couple who does business together on Vine?

The pair say that mixing business and personal does cause rifts but that they never compete against each other because their industry is already hard enough without that particular added pressure.
Simone doesn't mind that her content is often classified as content for "black vine" and says her viewers are often black women in their 20s and 30s--just like her.
For super riveting insight into Vine and relationships on the platform, check out the rest of Fusion's mini doc.