Is It Fair To Expect Zoella To Be A Feminist Role Model?
9 February 2016, 17:09 | Updated: 8 May 2017, 17:09
She's just not that into it...
It gets to be a slippery slope when we ask ourselves who is a "good" feminist and who is a "bad feminist". What constitutes good feminism for one person may be regarded as "bad feminism" to another.
But, as more and more internet creators (especially women) add "feminist" to their personas, do famously inoffensive YouTubers like Zoella still have a place in our increasingly activism driven new media landscape? Moreover, do we have a right expect that level of depth for creators committed to surface level entertainment?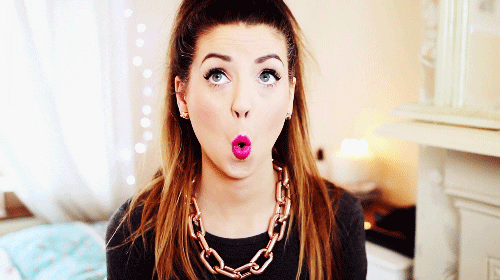 gif via giphy
Zoe Sugg has achieved a lot. 2016 will mark 7 years since she got her start on YouTube. In that time, the Wiltshire native has amassed a cult-like following of young female fans ready and willing to add to her success (and bank balance). There is no conversation about online heavyweights without the mention of Zoe and her clique (see: Joe, Alfie, Louise, and Caspar). On top of that, her role as a young, successful, female creator certainly does more good than harm.
In a recent video, Zoella asks her boyfriend and her brother to take a quiz on how much they know about everyone's favourite topic: Zoella.
In another video, Zoella plays Pictionary with fellow YouTube famous couple Tanya and Jim.
One of her videos entitled "What's In My Mouth" has 1.5 million views.
Zoella doesn't market in being "woke" or "deep", but her videos certainly do entertain her ever growing audience. Despite that, Zoella has been accused of not using her platform to do enough.
An article published in the The Independent makes an important point about Zoella's persona.
Zoe could become the face of accessible, digestible feminism, adored by legions of female fans. Her work with Mind is just one example of how influential she could be. Instead, too much of her inane chatter reinforces the age-old premise that women must be beautiful if they are to lead happy lives, and that what we care about, above all else, is how to do a flawless festival-ready top knot.

Chloe Hamilton for 'The Independent'
Hamilton isn't wrong. Zoella's clout could do so much for girls and those with mental illness, but do we have a right to demand this from her? Clearly, Zoe didn't get into makeup so she could talk politics but, aforementioned pal Tanya Burr has proudly proclaimed herself a feminist (to mixed reviews).
I'm so happy Tanya is a feminist. It's just another reason for her to be my idol @TanyaBurr

— daisy (@butterflyburr) March 14, 2015
Tanya Burr claims she's a feminist but doesn't do anything about it sorry honey you're not a feminist

— phoebe (@fempheebs) September 28, 2015
The question is, as women with smaller platforms take up hugely important feminist causes (The Malala Fund, #HeForShe, #GirlLove etc.), is it fair to expect someone with a massive platform (like Zoella) to take up similar causes? Well, yes and no.
It's not unfair to expect more. Plenty in Zoella's position would definitely do more. It's not as if she doesn't have a lot to say. Speaking candidly on her experience as a woman on YouTube could do a lot of good; more information and campaigning about her anxiety might literally save someone's life; discussing life as a modern woman (she's shacked up with her boyfriend, you know) could offer a lot of insight to her young fans.
But, for whatever reason, Zoella doesn't. Her tweets aren't particularly controversial, nor do they give much insight to her political or social leanings. But that might be okay.
just got irrationally angry cause i read that zoella wouldn't call herself a feminist nice role model ur kids have got there eh real good

— julia (@radiogasm) January 8, 2016
@Girlguiding can we develop a sort of intensive, feminist de-programming for girls influenced by the messages of 'role model' Zoella?

— Alex Threadgold (@a_threadgold) December 9, 2014
What if Zoella made videos about feminism, helping the young girls that adore her strive for an equal and better future?

— Ellie (@ellieshannon_) December 8, 2014
Zoella is a savvy, independent, power earner. But perhaps it's unfair to try and force role model expectations on her or any other creator in a similar position. It could be that Zoella truly has no opinion on feminism or equality and, to force that upon her would be disingenuous. Instead, it's probably fairer to acknowledge her success and resign ourselves to the fact that "What's In My Mouth" is the most controversial Zoella will get.