So, Who Is The Richest YouTuber Of Them All?
8 August 2016, 17:20 | Updated: 8 May 2017, 17:09
Some of your faves are now earning more than actual actors!
We all know how hard YouTubers work and thanks to the increasing interest surrounding your faves, they're getting more and more lucrative opportunities than ever before. But what if we told you some of them now have a larger net worth than the actors you watch on your favourite TV shows? Yup. Ever wanted to know how much your favourite YouTubers are worth? Let's go...

Phil Lester, 29 - Current Net Worth: est. $1.9m
via giphy.com
Whaaat? How come Phil is worth less than Dan? They do the same damn thing! Phil has just over 3.5m subscribers compared to Dan's 6m - so video click income is most likely the main factor but don't panic! Alongside their bestselling book and sold out tour, Phil (and Dan) will be releasing another ~memoir~ about their time on the road. There's literally no stopping them. We'll be bowing at their feet within the next year. Trust. Come thru Phil.

Miranda Sings, 29 - Current Net Worth: est. $2m
via giphy.com
Well, Colleen Ballinger we should say - but it's all thanks to Miranda, of course. As of 2015, Colleen and her genius character has amassed $2m in advertising and TV appearances but you can expect to see this figure skyrocket within the next year once Miranda's Netflix show finally drops. Could she be the *special* YouTuber that FINALLY breaks the mainstream market? Here's hoping!

Dan Howell, 25 - Current Net Worth: est. $2.5m
via giphy.com
Dan's net worth has reportedly more than doubled since 2014. From his own radio show, to hosting at the BRIT Awards, Dan has been a very busy boy! He released a book earlier this year with partner in crime Phil Lester and has since embarked on an around the world SOLD OUT tour. We're pretty sure we've all contributed to Dan's annual net worth with the amount of money we've spent on tour merch, tbh.

Zoella, 26 - Current Net Worth: est. $3.5m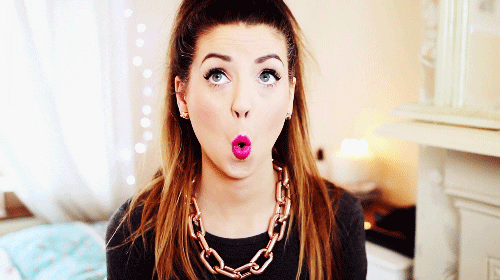 via giphy.com
It's taken Zoe quite a while to get to where she is right now - we remember the day she hit 1m subscribers, let alone 10m! It's been reported that Zoe earned a sweet £50k a MONTH back in 2014 thanks to that lucrative book deal, her beauty collection and a few product placement videos here and there. But with many more projects in the pipeline, we can only imagine the dizzying heights she'll reach in the next few years!

Jenna Marbles, 29 - Current Net Worth: est. $4m
via giphy.com
If you cast your minds back to some of Jenna's earlier videos, you'll have witnessed first hand how she went from small-apartment living graduate/Go-Go dancer to fully-fledged YouTube legend with her own personal assistant. Jenna now has over 16m subscribers, has a line of dog toys, hosts her own Radio show on Sirius XM and earns more in a year than your faves do for a full season of OITNB. Damn.

Grace Helbig, 30 - Current Net Worth: est. $5m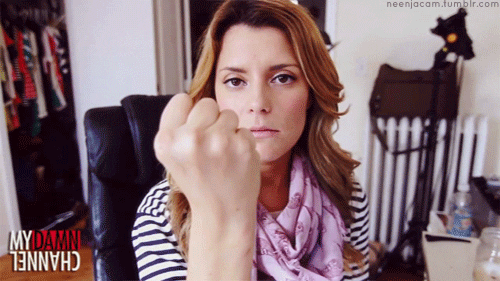 via giphy.com
In 2013, Grace left almost 3m subscribers on her original channel 'DailyGrace' when she parted ways with the My Damn Channel network. She started over fresh and since then has managed to build herself a comedy empire. She has 3m subscribers, has produced two movies with friends Hannah Hart and Mamrie Hart and when she was given her own TV show by E!, her net worth went through the roof! Yaaas Grace, get it gurl!

Smosh, both 28 - Current Net Worth: est. $11.8m
via giphy.com
Eyyy! It's Anthony and Ian! Alongside their 22 million subscribers, the boys have created an entire website dedicated to funny content and videos and they've even hit the big screen with a worldwide movie release. There are 10 Smosh-related channels on YouTube so have fun trying to stop these boys taking over the world!

PewDiePie, 26 - Current Net Worth: est. $18m
via giphy.com
According to Co-ed, Felix has earned a cool $124m since 2010 but due to him being Swedish, he's had to pay half of it back in tax. Since December 2013, his YouTube channel has been the most subscribed channel on the network and while he scooped a pretty sweet book deal last year, most of his income comes from the 13 *billion* views on his videos.

Moral of the story: Stick to you dreams, don't listen to your parents* and work hard!

via giphy.com
*LOLjk, you probably should listen to your parents, tbh.