Here's How To Work Out How Much Your Favourite YouTubers Earn From Twitter
22 March 2016, 12:40 | Updated: 8 May 2017, 17:09
SPOILER ALERT: They're pretty powerful and deserve every penny tbh! #Slay
In honour of the world's very first tweet turning 10 years old, social influencer online tool Webfluential has launched a free calculator that works out how much money you can earn from your tweets.
It takes geolocation, follower count and reach of your existing tweets into account and works out how much a sponsored tweet from you is worth.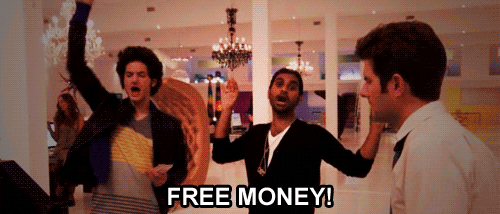 NBC / via giphy.com
If you have over 500 followers, you can find out how much YOU could be earning per tweet. The tool also lets you search famous influencers to see how much they could earn from Twitter. The DailyDot recently ran the calculator through their 12 Most Influential YouTubers of 2015 - because it is genuinely interesting and also everyone is obsessed with how much money YouTubers make.
But when you compare the most influential YouTubers to one of the most prolific celebrities on Twitter, you'll see just how important and powerful YouTubers are to the online generation. And why they probably shouldn't be underestimated.
REMEMBER: These results are not 100% accurate; they are an estimation. Not every YouTuber does sponsored tweets, and they always make it clear when they do. Cool. Let's carry on.
Let's kick things off with Queen Tyler, shall we?
Twitter Followers: 5.11m

And then Pewdiepie, the world's most subscribed YouTuber...
Twitter Followers: 7.91m

And what about mainstream media's favourite talking point? Babe of all babes, Zoella!
Twitter Followers: 4.44m

Jenna Marbles? Slay me!
Twitter Followers: 4.01m

And even the goddess that is Miranda Sings... gettin' that paper.
Twitter Followers: 2.26m
Impressive, huh? RIGHT THEN. Let's put all this into perspective.
Take Pewdiepie, with almost 8m followers and compare him to the mighty social media force that is Kim Kardashian. He has just over ONE FIFTH of the followers that Kim has, and yet he can command almost HALF of what she can on a platform that is not even his main outlet. THAT'S INFLUENCE.
Twitter Followers: 42.1m

Even Zoella and Jenna, who have one tenth of Kim's followers are able to command a quarter of her Twitter earnings. Imagine how mind-blowing it would be if they both had as many followers as they did subscribers. #PeaceOutKim!
Regardless of the monetary value, the estimates prove just how valuable and influential YouTubers are to the world. Pretty remarkable for a bunch of kids who started talking to a camera in their bedroom, right? Even to this day, they're still hustling as hard as they did back then; editing their own videos, managing their own social media platforms and working real damn hard to make it happen. Entirely deserved, if you ask us!
But none of us can compete with how much the Most Followed person on Twitter can command per tweet.
Twitter Followers: 84.9m
DAMNNNN KATY!
How much are your tweets worth then? My tweets are worth nothing. Not even 50p. Bye.

via giphy.com