Yung Gravy wants to date Ariel Fulmer following the Try Guys cheating scandal
6 October 2022, 14:47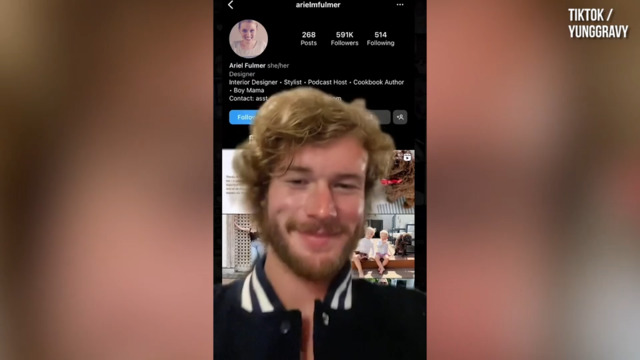 Yung Gravy reacts to Ariel Fulmer following him on Instagram
Ariel Fulmer followed Yung Gravy back on Instagram after her husband Ned Fulmer's affair went public.
Yung Gravy has revealed that he is interested in Ariel Fulmer following the Try Guys cheating scandal involving Ned Fulmer.
Last week (Sep 27), Try Guys star Ned Fulmer confirmed reports that he had cheated on his wife Ariel Fulmer. Taking to his Twitter account, Ned wrote: "Family should have always been my priority, but I lost focus and had a consensual workplace relationship. I'm sorry for any pain that my actions may have caused." Ned has since been fired from The Try Guys.
Meanwhile, Ariel has released a statement of her own. Taking to her Instagram page, Ariel wrote: "Thanks to everyone who has reached out to me - it means a lot. Nothing is more important to me and Ned than our family, and all we request right now is that you respect our privacy for the sake of our kids."
Now, rapper Yung Gravy has entered the chat by making a move on Ariel and Ariel has followed him back on Instagram.
READ MORE: The Try Guys are now posting memes about the whole Ned Fulmer situation
Fans of Yung Gravy will already know that the artist famously has a thing for MILFs. He regularly references his love of older women in his music and the 26-year-old even recently had a 'fling' with Addison Rae's mum, Sheri Easterling (42). After the news of Ned Fulmer's affair broke out, fans began suggesting that Yung Gravy should make a move on Ariel who is 36.
Last week (Sep 29) a person tweeted, "i really hope this ned fulmer scandal ends with ariel hooking up with yung gravy that would be the ultimate pop culture bingo card bs", and it went viral. Reacting to it, Yung Gravy responded: "idk who those people are but that's even better, let's get it". He then followed Ariel on Instagram and now she's followed him back.
Taking to TikTok yesterday (Oct 5), Yung Gravy also posted a video with the caption: "drop your most recent W". He then shows a screenshot of Ariel Fulmer's Instagram page and points out that Ariel has just followed him on the page.
fuckin dying at yung gravy immediately following Ariel fulmer after the whole try guys Ned fulmer cheating scandal, that man does NOT rest

— shut up cheyenne (@localweenie) October 1, 2022
not yung gravy following ariel on instagram 😭😭

— out of context try guys (@tgnocontext) September 30, 2022
As it stands, Ariel is yet to comment on Yung Gravy showing interest in her. We shall update you if she does.
Read more about The Try Guys here:
Drag Race UK's Starlet Says She Meant "No Disrespect" To Judges Following Dramatic Exit