TikTok star Zoe Laverne accused of kissing underage fan
29 October 2020, 16:03 | Updated: 3 November 2020, 10:33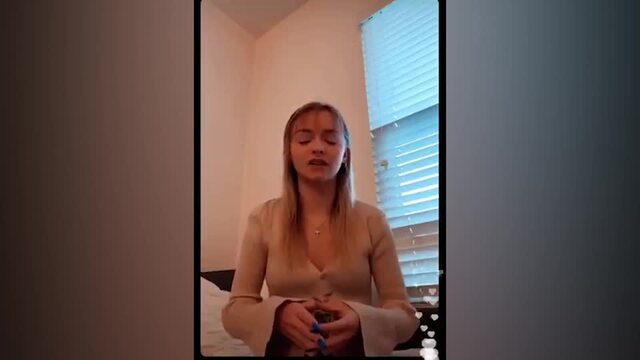 Zoe Laverne responds to allegations she kissed a 13-year-old fan
Zoe allegedly responded to the allegations via a fan account.
Zoe Laverne, 19, has been accused of kissing an underage fan and inappropriate behaviour after multiple videos surfaced of the TikTok star.
In case you don't know, Zoe is a TikToker and YouTuber. She started out on Musical.ly and she currently has over 17 million followers, and a pretty large fanbase.
Zoe's ex-boyfriend Cody Orlove expressed her concern about her relationship with the 13-year-old boy named Connor Joyce, who has appeared in TikTok videos alongside Zoe. The allegations were made public once private DMs between Cody and his current girlfriend Amber VanPelt were exposed. "It's something I do not stand by what so ever. It's pedophilia," Amber wrote. Amber also accused Zoe of having an "intense" relationship with Connor.
READ MORE: This ridiculous Bella Poarch conspiracy theory is going viral on TikTok
In a video, Zoe can be seen kissing a boy who people have identified as Connor. Other clips that have circulated the internet show Zoe and Connor cuddling, kissing and dancing together. Zoe denied that she had "raped" Connor in an Instagram Live and said she's "always a target" online.
"The fact that people are saying I raped my best friend, a supporter of me for three years, is unacceptable," she explained."It's disgusting. It makes me sick to my stomach."
Zoe's mother Debbie Pemberton also posted a video defending her daughter and told the internet to leave her alone. She said: "Anybody can reach over and kiss somebody. They're best friends and this needs to stop you guys, why are you doing this?"
Zoe has now deleted her Instagram account but she has allegedly addressed the whole thing from a fandom account which she has reportedly used before to communicate with fans.
zoe laverne a whole ass adult, DID NOT just admit to catching feelings for a 13 year old

— CALEBFINN (@ccalebfinn) October 29, 2020
She wrote: "Thank you for everything, really. But for right now I don't think I'll be back on social media again. I (still) have a lot to think about. I really don't wanna leave you guys but I'm tired of feeling this way. I'm tired of crying and hurting. It's nothing but negativity to me anymore. I love you so much."
In a separate statement, Zoe allegedly said she would address the situation properly once her Instagram account is back: "I would like to say I am aware of what was leaked… but Connor was not raped etc. Connor and I kissed yes… never had a relationship but we did catch feelings for each other after being so close. These videos were from months ago and we both realised it was wrong and we both cut if off."
Zoe went onto say that she told Connor's mother about their kiss and she wasn't happy about the situation, but understood that they are both teenagers. She also confirmed that she's still friends with Connor but they hadn't communicated in three days after deciding to stop speaking for their mental health.
She continued: "I am aware that I am an adult and I am aware that I have done something wrong and I am very sorry for what I have done. Connor and I will go [Instagram] live together as soon as this all calms down and explain ourselves."