Zoë Sugg & Alfie Deyes Are PISSED And With Good Reason
30 December 2015, 16:38 | Updated: 8 May 2017, 17:09
Zalfie are D-O-N-E and here's why.
YouTubers might be (attempting) to re-write the rulebook when it comes to their fans and 'fame'.
However, it seems that, despite their best efforts, YouTuber couple Zoë Sugg and Alfie Deyes have become victim to one of the many pitfalls that celebrity status can bring.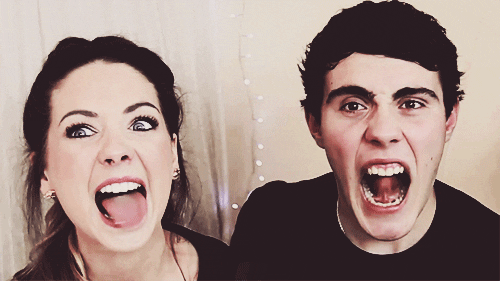 tumblr.com
While the pair hold regular meet ups with fans, it seems that some overexcited admirers have been heading to the couples' home, ringing the doorbell, peering through the windows and taking pictures.
In a tweet, Zoë (aka Zoella) talked of her discomfort and upset over the situation.
Really starting to lose my patience with people just turning up at our house & peering in or ringing our bell makes me hate my house!

— Zoë (@ZozeeBo) December 28, 2015
*Sad face*
Likewise her BF Alfie took to the social media site to chastise those who were turning up at their crib, and calling out the parents that are driving them there, too.
Parents who drive their kids to our house & put them on their shoulders so they can lean over our walls to try and take pictures of us

— Alfie Deyes (@PointlessBlog) December 28, 2015
without us realising..I see you! I'm on the sofa in my pyjamas relaxing. Go away. If you want to meet me, I love that! Come to a meet up :)

— Alfie Deyes (@PointlessBlog) December 28, 2015
just like everyone else who wants to meet me does! You can't just drive to my house & climb our walls, that's really not fair!

— Alfie Deyes (@PointlessBlog) December 28, 2015
*sigh*
According to Metro it seems that fans got a hold of the couple's address after a British newspaper published it in a story.
Now, successful YouTubers are in a precarious situation. Obviously, despite their protestations, they are indeed celebrities. And they are quickly becoming a new breed of tabloid fodder.
However, it doesn't stop just there. Part of the success of creators is their accessibility and their openness with fans. While other 'celebrities' such as actors and popstars play catch up, YouTubers have been killing the fandom game since day one.
Yet what this breaking down of boundaries does is enable a certain sense of ownership that is totally unprecedented. Fans not only feel that they know the people behind the cameras but that the people behind the cameras owe them something. After all, it was grassroots fandom rather than huge marketing budgets that enabled creators to achieve such success, right?
This, as is evident, can cause a dangerous and jarring blurring of the lines.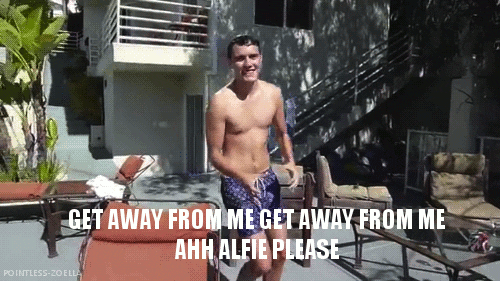 tumblr.com
Obviously peering through Alfie and Zoë's windows, ringing the doorbell and hassling them in the comfort of their home is UNACCEPTABLE. There is really no excuse for this disgusting breach of privacy, especially when the occupants feel like they want to move.
This point, really, stands for everyone. No one wants to come home to find 15 kids taking pictures of their front door. But I can't stop myself thinking back to 2009 and the great Amy Winehouse. There was a time when Ms. Winehouse would have 20 photographers and fans standing outside her house taking pictures 24/7. Likewise, Britney Spears in 2007 had her privacy breached, and allegedly had people going through her bins.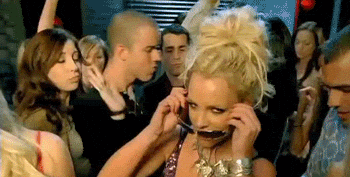 Jive Records/Britney Spears/Vevo
The point I'm making is that these two examples, while obviously more extreme than what Zalfie are experiencing, weren't able to create distance with their fans, even when the relationship was severely one sided; it was popstar on one side and fan on the other.
Where things become problematic is that YouTubers openly invite fans into their lives, showing them their rooms, sharing their love lives with their audience and being openly available. I'm not defending the behaviour of those hassling Zoë and Alfie, but I'm saying maybe they shouldn't be too surprised.
As YouTube and creators continue to flourish and grow in popularity, maybe some thought needs to be given to just how much sharing is really caring. Also, despite their best efforts, perhaps celebrity really is inescapable after all.
They need to ask themselves, where does accessibility end?