Zoella's Q&A Got Hijacked By Trolls In The Most Hilarious Way
4 May 2016, 11:38 | Updated: 8 May 2017, 17:09
Ok but you'll be hella sorry when she actually answers these questions.
Another day, another YouTube Q&A. This time from Queen Zoella and believe us when we say, it was LIT.
Filming a Q&A tomorrow, if you have a question, use #AskZoella

— Zoë (@Zoella) May 3, 2016
As one can expect, she was infiltrated with lovely, genuine questions from her teen fans about her boyfriend, and her dog, and her make up, and - quite importantly, actually - how she deals with anxiety. But with almost 5m followers and over 12k responses, it was bound to be hijacked by a bunch of trolls but let's face it, they played themselves because we all thought it was brilliant. Now we're desperate for a sassy response video where she sits down and answers every. single. one. DO IT ZOE!
"Hey Tanya, do you have a spare Streichholzschnatzel so I can light the candles on this cake I baked?"
Can you say 'Streichholzschachtel' ? (it's match box in german) #AskZoella

— CimorelliToAustria (@nutell89) May 3, 2016
wattpad.com
Um... that's way too heavy for a Tuesday evening, my friend.
#AskZoella what's your stand on the EU debate and the impact that brexit could have nationally and internationally?

— joe (@JoeDymock) May 3, 2016
via giphy.com
Alright mate, this isn't the A Levels.
#AskZoella the relationship between string theory and quantum field theory?

— Alexei Stevenson (@AlexeiSand) May 3, 2016
via giphy.com
Well, Zoe? Do you?
#AskZoella Do you collect the Panini Euro 2016 stickers? If so, do you have swaps? I've got 3 Chris Gunters.

— Rhys Wynne (@rhyswynne) May 3, 2016
via giphy.com
Ok, but... Zoe, seriously. Who is your fave?
#AskZoella Who is your favourite WWE superstar, past or present.

— Jack G. King (@Jack_TheJobber) May 3, 2016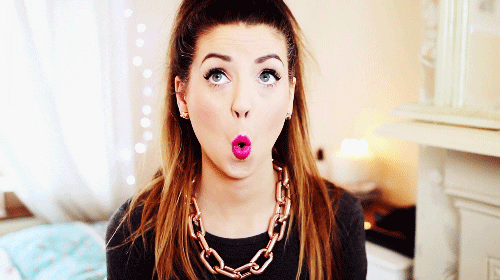 via giphy.com
Wait, no... this one is more important. Answer this.
#AskZoella Who's your favourite Anglo-Saxon monarch?

— History of Royals (@HistoryofRoyals) May 3, 2016
via giphy.com
Should I stick to the drug store products? Or should I go high end? Let me know! xoxo
What is the best eyeliner to cover my existential crisis? #AskZoella

— Rick Burin (@rickburin) May 3, 2016
penola.tumblr.com
OHHH INTERNET.