Jennifer Lawrence Singing Cher Will Give You Life (After Love)
10 July 2015, 11:07 | Updated: 8 May 2017, 17:09
Listen to J-Law's bizarre impression on CONAN. You need this.
We already know from her epic Mockingjay: Part 1 ballad "The Hanging Tree" that Jennifer Lawrence has a killer singing voice; But apparently she has a habit of channeling another singing legend while on set.
J-Law and her Hunger Games castmates appeared on CONAN last night to fill him in on the upcoming second part to The Hunger Games: Mockingjay. The conversation turned to Jennifer's No. 1 single; to which her response was either really humble or really cocky, we can't tell.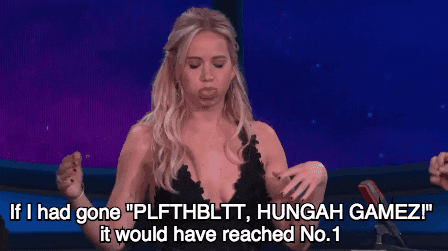 While Jennifer apparently doesn't love singing in public, she does like to troll the cast and crew with her own version of Cher. With some prompting from Conan (and a bit of backup from co-star Josh Hutcherson), she busted out a couple of bars of the diva's "Believe" in a voice that sounded more like the lovechild of Cher and Louis Armstrong. We basically love it.
Check out the hilarious moment and some other segments from the interview below.