Jimmy Fallon Goes Full-On Karaoke In A History Of Duets With Kelly Clarkson
4 March 2015, 12:05 | Updated: 8 May 2017, 17:09
[GUY PART] ♫This is cheeeesy...♫
Kelly Clarkson's big comeback to music has been moving at full throttle, with her new album Piece By Piece dropping this week and her recent vocal interest in working on duets. So it's no wonder that serial-collaborator Jimmy Fallon had her on The Tonight Show, for a medley of two-part favourites through the ages.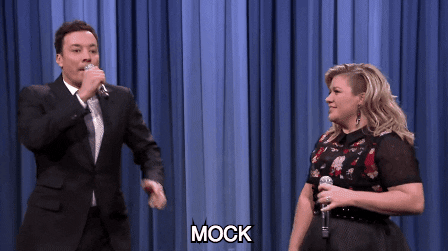 Joined as always by in-house band The Roots, Jimmy and Kelly fire through a musical chronicling of all our favourite married-couple-karaoke hits, from "I Got You Babe" to "Don't Go Breaking My Heart". And they honestly have that karaoke duet aesthetic nailed; it's adorable, it's fun, and it's cheesy as heck.
Also Jimmy's Aaron Neville impression is... okay, it's spot on.
Check out the History Of Duets below.