This K-Pop Band Falling Over On Stage Is All Of Us
8 September 2015, 10:52 | Updated: 8 May 2017, 17:09
We've all been there.
It was absolute carnage for this K-Pop band GFriend on Saturday night. It had just finished raining before their performance and the stage was obviously slippery. It didn't take long for them to start falling over (nine times in total!) Seriously though, some of these falls look like they hurt. We feel so bad for them :(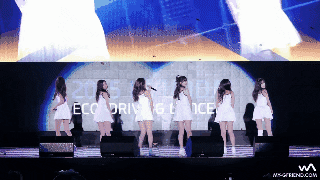 Taking most of falls was Yuju (the one in a knee bandage) who fell EIGHT times. Presumably she already had a bad knee so we can imagine she was feeling a bit sore the next morning, poor thing. Hopefully someone had a bag of frozen peas on standby. At least she wasn't alone. Bandmate SinB took a nasty fall too.
The important thing is that the girls carried on till the end like true professionals. We would have died of embarrassment, ran off stage and cried. But the girls did themselves proud and now they're viral superstars!
Gotta look on the bright side of everything, bbz!
Watch the girls battle for their lives here: