These People Just Got Really Emotional Because Kanye West Had A Nando's Before The BRIT Awards
25 February 2015, 18:58 | Updated: 8 May 2017, 17:09
BRITs night = chicken.
Ahead of his performance at the BRIT Awards in London tonight it would seem that Kanye West had only one thing on his mind: Nando's chicken.
So, it turns out Kanye is much taller in real life... #NandosO2 pic.twitter.com/fccOkaZS6K

— Nando's (@NandosUK) February 25, 2015
As you might expect, spotting Kanye in your favourite chicken restaurant when you're not expecting it can cause a pretty emotional response.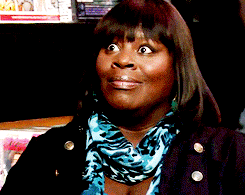 There's the initial shock of the people who are there in person.
JUST SEEN KANYE WEST IN NANDOS OH MY GODDDDD

— Karis Livingstone (@KLivingstone_) February 25, 2015
No way did kanye west just come into nandos!!

— scarlett (@ScarlettRiz) February 25, 2015
As if me and Karis were in the same nandos with Kanye west

— lizzie hall (@Lizzieee_H) February 25, 2015
Then there's the first person quick enough to open Snapchat, take a picture and send it to their friends, who do the sensible thing and post it on Twitter.
So @JordanLapper just sent me this picture of Kanye West in Nandos! So jealous! pic.twitter.com/bbb4iqnQfF

— Ben Worstencroft (@Ben_W_18) February 25, 2015
People who aren't there start asking questions. Why Kanye? Why aren't I there? FML.
WHY THE FUCK IS KANYE WEST IN NANDOS LMAO?

— Siobhan Newsome (@deathvoices_) February 25, 2015
Wtf is Kanye west doing in a nandos in London..?

— Gemma (@gemmaisagnome) February 25, 2015
While others can only imagine what meeting Kanye in real life would feel like.
Imagine bumping into @kanyewest at nandos, I'd spew

— Lauren Atkinson (@LaurenA_x) February 25, 2015
Finally some clarity: Kanye is standing on a table allowing people to take selfies with him.
LMAO Kanye West just stood on the counter at Nandos so everybody could get a picture with him at once this is amazing

— Fiona (@bugmadoo) February 25, 2015
What. A. Guy.
It takes a few minutes, but then suddenly selfies from all angles start appearing on Twitter.
Kanye West has arrived. He's in NANDOs grabbing some wings. I think he went for medium. #BRITs2015 pic.twitter.com/F5SBUxtT4j

— James Robinson (@CumbrianJames) February 25, 2015
@SWLondonwebed Kanye West... in Nandos! pic.twitter.com/I68iw24vRL

— Col.I.N (@obicolkenobi) February 25, 2015
As the news appears on more people's timelines and feeds, the emotions just get more real.
the way that kanye west is currently in a nandos in london is killing me inside

— aaron (@aaronnjosephh) February 25, 2015
Kanye west in a nandos, how very LAD

— maisy (@moaninglsasmile) February 25, 2015
Some guys be like.
If Nandos is good enough for Kanye West it's good enough for you girls for a date

— Niall (@NiallBowes) February 25, 2015
The "cheeky Nando's" massive soon find out.
"@kanyewest Just having a cheeky Nandos"

— Raji (@Miss_Raji) February 25, 2015
Had a cheeky Nandos with Kanye west just a few tables down before posing with his fans! @kieranworsten pic.twitter.com/qZJ8rPwfhJ

— Jordan Lapper (@JordanLapper) February 25, 2015
Looks like your nandos was extra fucking cheeky @kanyewest

— Danny Green (@DannyBGreen) February 25, 2015
One person is loving it for different reasons.
Kanye West is at the O2 Nandos where I am supposed to be working a 4-8 shift tonight, even more reason why I'm glad I cancelled the shift!

— Bope. (@SophieENoke) February 25, 2015
But Kanye's impromptu visit to Nando's isn't good news for everyone though.
Was gonna to nandos but now im hearing Kanye west just walked in there. That shit gonna be mad busy for a minute

— EddiePhillips (@_EddiePhillips) February 25, 2015
Wow, things got God-level there for a minute.
Kanye West in Nandos - such unprecedented scenes.

— pips (@pippaperriam) February 25, 2015