9 Things Everyone Should Do When They're Feeling Lonely
Loneliness can be isolating but here's how you can move forward.
Feeling lonely isn't just about not having people around you. It can also be a symptom of an emotional disconnect between you and the people you call friends and family. Loneliness isn't something that goes away overnight, but it is something that you can work toward minimizing.
1) Get creative.
We want to be very careful about conflating loneliness with creative process. Loneliness, depression, and mental illness don't make you more creative. However, creative activities are proven mood boosters and stress relievers.

via Unsplash

2) Work on a skill.
One good example of something to try is cooking a recipe you've never tried before. Loneliness can sink your self-esteem. Cooking has both effect of boosting self-esteem and relieving stress.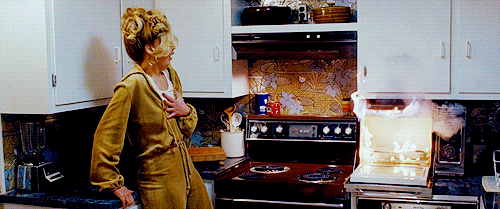 via bestanimations.com
3) Playlist your feelings.
Sit down, open your Spotify and create a playlist that perfectly sums up how you feel about your loneliness. It's cathartic and something that you can share with the people around you who may not even realize you're feeling this way.
via tumblr
4) Change your routine
Loneliness and isolation aren't always the same but they often go hand-in-hand. While it can be hard to express to friends and family that you're feeling lonely, venturing out and changing your daily patterns can impact how you view the world and process your own emotions. Go out on walks, explore your neighborhood, spend an hour in a coffee shop. Switch up the monotony of everyday life.
via tumblr
5) Reach out to someone you haven't spoken to in a long time.
Whether it's a family member, an old friend, or a crush you used to speak to all the time. Sometimes, sending a quick "thinking of you" message can go a long way toward minimizing those feelings of isolation.
via tumblr
6) Take yourself on a date.
When you're lonely, it's not uncommon to feel a sense of rejection. One way to build up that self-worth again is to treat yourself like you deserve to be treated. Take yourself to lunch, treat yourself to a film. You don't have to be wined and dined to realize that you're worth being wined and dined.

7) Meditate
I personally am obsessed with meditation these days. Loneliness can weigh so heavily on the psyche. Meditation is an amazing way to get rid of bad thoughts and relax your mind and body. This is my personal endorsement for a 20-minute guided meditation session to get rid of isolating and bad thoughts.
via giphy
8) Sweat it out.
You've been told this 1 million times before, but I'm here to tell you one last time that working out releases endorphins that can lift your mood. You don't have to turn into some kind of gym rat overnight, but a good workout (at least once in a while) can help with anxiety, depression, and a whole host of other things.
via Unsplash
9) Start something new.
Just because you're feeling lonely doesn't mean your interests disappear. Don't be afraid to start a new project that will re-energize you, make you excited to work toward an end goal, and give you motivation beyond your current social situation.
via iStock